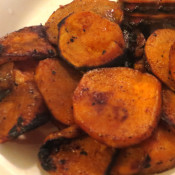 There is nothing more rewarding about summer cook-outs than to be able to prepare your entire meal, start to finish, on the grill. One of my favorite side dishes that I like to make on the grill – whether I'm serving chicken, meat or fish – is a good, old-fashioned sweet potato. Now, if you've cooked sweet potatoes on the grill, you know that a little extra time and patience is needed. Just as if you were baking them in the oven, you are sure to be looking at a good 30-45 minutes before the potatoes are perfectly cooked and are ready to eat.
To cut back on some of cooking time, I came up with a little trick that I now use whenever we are planning to grill sweet potatoes. By slicing the potatoes first, then tossing the slices with some olive oil and spices, you end up with delicious, crispy sweet potato chips. They are easy to prepare, cook within 15 minutes, and they are a fun dish that even your kids will enjoy. I prefer using spices and flavors that really enhance the natural taste of a sweet potato – cinnamon, brown sugar and a little maple syrup are what I like best. You can serve them along side a main course, or enjoy them on their own as a crispy grilled snack!
Grilled Cinnamon Sweet Potato Chips
Makes approx. 2-3 servings
2 nice-sized sweet potatoes, scrubbed (peeled or unpeeled, your preference)
Extra virgin olive oil
1 tbspn brown sugar
1 tspn cinnamon
1/2 tspn salt
2 tbspn maple syrup
You will also need a lightly sprayed grilling basket or a grill pan, just as I suggested using in my Grilled Tomato Basil Salad recipe.
Preheat your grill to medium-high heat.
Using a sharp knife, carefully slice the sweet potatoes into thin slices, about 1/8″-1/4″ thick (you do not want them to be paper-thin). Place the sliced potatoes into a large bowl. Drizzle the slices with olive oil, enough to lightly coat each of the slices. Add the brown sugar, cinnamon and salt; stir well. Drizzle the mixture with the maple syrup; stir well again.
Place the grilling basket or pan onto the grill over direct heat. Carefully pour the chips into the basket, stir well using a wood or metal spoon or spatula. Close the grill lid, but check and stir frequently to avoid the chips from burning. Once the chips start to brown and blister, carefully move the basket to an indirect heated area of the grill. Continue to cook and stir until the chips are evenly cooked and slightly crispy, (approximately 10-15 minutes total cooking time). Carefully remove the chips from the basket with a spoon. Plate and serve.