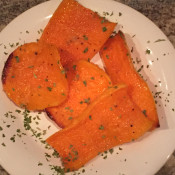 Nothing says autumn like the sweet taste of butternut squash. Whether it's roasted with a little cinnamon, butter and brown sugar, prepared as a hearty soup, or served as a seasonal ravioli, butternut squash is a definite fall favorite. This recipe offers a nice balance of sweet and savory. The Italian seasonings work really well with the natural sweetness of the squash. This is a great side dish to serve with any autumn-inspired meal…be sure to keep it in mind come Thanksgiving time!
Roasted Italian Butternut Squash
I like to slice the top half as rounds, and the bottom half as long slices – this makes it easier to work around the pulp and seeds, and makes for a rustic presentation.
1 butternut squash, peeled and sliced into 1/2″ slices
1/4 cup olive oil, plus additional if needed
1/4 tspn salt
1/4 tspn pepper
1/2 tspn garlic powder
1 tspn Italian seasoning
I personally prefer to use a baking rack sitting in a baking dish or on a baking tray for this recipe, to allow for even cooking on both sides. If you do not have a rack that fits into a baking dish, you can just use a lightly sprayed baking tray and flip the squash slices halfway through baking time.
Preheat oven to 400˚. Place squash slices on a rack that is sitting in a baking dish or on a baking tray (see note above regarding the rack). Combine 1/4 cup olive oil, salt, pepper, garlic powder and Italian seasoning. Lightly brush the squash slices on both sides. You can lightly drizzle with additional olive oil if needed.
Bake for 35-40 minutes or until the slices start to brown along the edges, turning once at 15 minutes.