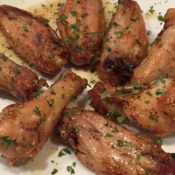 I was never a huge fan of easy pickin' foods that are slathered with sauce. Whenever I grill ribs or chicken, I always opt for a nice dry rub as opposed to brushing it with barbecue sauce. Because of this, chicken wings are not usually on my radar. And when they are, I am very particular on how they are prepared. I don't like them breaded, I don't like them fatty and I don't like them floating in a sauce bath. This past Superbowl weekend, I decided it was time to give it go and figure out how to prepare wings to my liking.
The last time that I had enjoyed wings, they were prepared with just a salt and pepper rub on them, and they were finger-licking good. The salt and pepper blend was baked perfectly into the juicy chicken meat, making the plate of tiny wings and drumsticks truly addicting. This was the recipe that I decided I was going to start with for my game-day party plate.
Te recipe that I used was very simple: 1 teaspoon of salt and 1 teaspoon of pepper, combined, for each pound of wings (which is approximately a dozen wings). Making the adjustments for a larger batch would be simple using the ratio of 1:1:1 (meaning 1 teaspoon salt and 1 teaspoon pepper per 1 pound of wings). The challenge that I had was how to properly cook them. Frying is the traditional method used to cook the perfect crispy and meaty wing, rendering off any of the unnecessary fat. But my preference is almost always baking over frying. However, baking wings often leaves the skin a bit fatty, which is one of my wing no-nos. In order to achieve the desired crispness, you really have to crank your oven temperature up to at least 425˚. While the higher temperature will help achieve the desired texture, the high-heated fat will start to splatter, which will lead to a smoky oven. Not fun if you have a smoke alarm close to your kitchen quarters.
This is where celebrity chef Alton Brown's admirable food and science knowledge comes in to play.
Alton's method is to steam the wings prior to baking them. As Alton says, "the trick is to steam them first to render out a lot of the fat. Then you cool them to tighten the skin." This step, which does involve a little bit of labor, will help cut back heavily on oven splatter, since much of the fat has been rendered off. The end result is a beautiful crispy and flavorful wing, without a smoke-filled kitchen when you remove the tray from the oven!
As I mentioned earlier, I am not a big fan of wings that are slathered in sauce. But I also did not want serve wings that were too dry. Because my wife and kids do not like hot or spicy food, I opted to make a sweet honey-butter sauce that I would quickly toss over the wings. This quick sauce was just enough to coat the wings, and was a great complement to the salt and pepper rub. Just enough of a sweet coating without over-saturating the wings.
Below is the step-by-step process to my wings. Again, you can use the ratio method of 1:1:1 for the salt and pepper rub. The honey and butter measurements for the coating can be increased per pound as well.  The ingredients are simply a starting point. Additional spices can be added to the rub, and hot sauce can be added to the honey-butter coating to your liking.
Honey-Butter Salt and Pepper Wings
Makes approximately one dozen wings.
1 pound party chicken wings
1 teaspoon salt
1 teaspoon pepper
2 tablespoons butter
1 tablespoon honey
(optional – fresh chopped parsley for garnish)
Step 1: Steaming the Wings
This is Alton Brown's method for steaming the wings. This step helps render the chicken fat, which will reduce the amount of splatter and oven smoke while baking. You can eliminate this step if you do not have a steamer basket, but there will be some oven smoke and splatter made while baking.
For Alton Brown's complete Buffalo Wing recipe, click here. 
Load a 6-quart saucepan with a steamer basket and 1 inch of water in the bottom, over high heat, cover and bring to a boil.
Place the wings into the steamer basket, cover, reduce the heat to medium and steam for 10 minutes. Remove the wings from the basket and carefully pat dry. Lay the wings out on a cooling rack set in a half sheet pan lined with paper towels and refrigerate for one hour. You can do the wings in batches if you can't fit them all into the steamer basket at once.
Step 2: Coating and Baking the Wings
Preheat the oven to 425˚. Combine the salt and pepper. Once the wings have completely cooled and dried, coat the wings on both sides with the salt and pepper rub. Either place the wings on a small rack sitting in a baking dish (my preference for even cooking), or place the wings on a baking sheet lined with parchment paper.
Bake the wings on the middle rack of your oven for 20 minutes. Flip the wings and bake for another 20 minutes, or until golden brown.
Step 3: The Honey-Butter Coating
While the wings are in the final 20 minutes of baking, you can prepare the honey-butter coating. Melt the butter in a sauce pan. Add the honey, stir well and continue to heat until warm and thoroughly combined.
*Note – you can add hot sauce or spices to your liking to add heat to the honey-butter coating.
Once the wings are done, toss them with the honey-butter coating. Sprinkle the wings with some fresh chopped parsley, serve and enjoy!