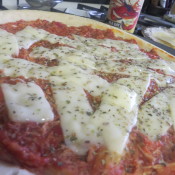 Summer is finally knocking on our door…which means it's time for me to fire up the barbecue grill, dust off the yard games and stock up on some tasty summer brews. One of my all-time favorite summer meals that I enjoy making for our family is crabs and macaroni (you can find my recipe for crab gravy by clicking here). Last year, as we were sitting around the table, sipping the last of our beer and staring at the pile of empty crab shells, my brother-in-law Shane suggested one of the most brilliant, yet simple dinner ideas. "Why don't you make a crab gravy pizza?" Genius at it's best! One of the glories of this fabulous dinner is dunking bread into the gravy, so spreading the gravy onto a pizza shell would make total sense. Since crab gravy is a bit of a seasonal treat, and because we had our meal late in the season last year, we both agreed to keep that idea on the back-burner until this coming summer. It was a long wait, and we discussed the idea many a times…but the time has finally come to put this brilliant recipe to the test.
Instead of making a big pot of slow-simmering crab gravy, I decided to put together a quicker, simple version of the sauce, using a 1 lb can of pure claw crab meat (the claw meat is cheaper than the lump, and works perfectly with this recipe). My goal was to make the gravy thick and meaty, so that you would get a generous taste of the crab meat with every bite. I also decided to use pre-made traditional style pizza shells (not the thin crust), so that they can hold the gravy without breaking apart. For the cheese topping, I decided to go with fresh shaved parmesan cheese. We top our pasta with parmesan cheese, so this was the obvious choice. To avoid having the cheese melt into the gravy, I added it to the pie towards the end of baking, layering it loosely.
While I don't normally brag about the dishes that I share with you, I do have to say that this pizza was A-MAZING! The rich taste of the gravy combined with the fresh shaved cheese on top of the toasted crust worked exactly how I wanted it to. It was well worth the wait to put it together. And I have to give Shane full props for the inspiration on this one.
If you are a fan of crab gravy and if you like messing around with new pizza ideas….give this one a try. It's the perfect summer party food!
Crab Gravy Pizza
1 lb can pure claw crab meat
1 small can (12-14 oz) crushed tomatoes
1 small can (8 oz) tomato sauce
1/2 tspn Italian seasoning
1/4 tspn Old Bay seasoning
1/4-1/2 tspn sugar (your preference to taste)
Salt and Pepper to taste
2 pre-made pizza shells (not thin crust)
1 small block parmesan cheese (shaved down using a vegetable peeler, to about 25-30 slices)
Pour crushed tomatoes, sauce and crab meat into a medium sauce pan over medium-low heat. Add seasonings and sugar, stir well. Add salt and pepper, stir well. Cover with lid to simmer, stirring occasionally and adjusting seasoning to taste. Remove from heat after about 35-40 minutes, when gravy is flavored to your liking. Set aside to cool – you don't want to add hot sauce directly to the pizza shells. You can prepare the sauce and refrigerate up to 1 day ahead of time.
Preheat oven to 425˚. Spread a generous and even amount of sauce onto each shell. Place in the oven for 5 minutes. Remove pizzas from oven and top with fresh shaved parmesan cheese. You can layer it loosely or lattice-style. Place back into the oven, bake for an additional 5 minutes.
Remove from oven. Slice, serve and enjoy!