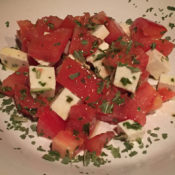 Recently, I shared with you my recipe for game-day empanadas, and one of the fillings that I decided to use in my empanadas was ricotta salata. Up until this point, I had not really been all that familiar with this particular cheese. Ever since, it has become a staple in our house. For those of you who are still not familiar with this flavorful gem, it is an Italian cheese made from whey that is re-cooked (ricotta), and has been pressed, salted (salata) and aged for at least 90 days. The end result is a beautiful, milky white cheese with a slight nutty flavor, that is perfect for slicing, shredding or crumbling. Texture-wise, it is more like a feta than a traditional soft ricotta, with a taste that packs a delightful punch. It is also a very reasonably priced cheese, which makes it all the more enjoyable.
While my wife and I were perfectly content with simply enjoying slices of this cheese drizzled with a little balsamic, the wheels in my mind quickly started spinning on how to incorporate it into recipes. The first, and most obvious recipe that came to mind was the classic Caprese Salad, which of course is simply made up of fresh sliced mozzarella, tomatoes, fresh basil, olive oil and herbs. My thought was that not only would the texture of the cheese hold up well with the tomatoes and fresh basil, but also that the lively flavors would not require any additional seasonings. My hunch was correct. The in-your-face, vibrant flavor marries perfectly with the sweetness of fresh chopped basil, swirled together with a splash of rich, golden olive oil. The crumbly, chunky texture plays well with chunks of juicy tomato. Traditional Carpese Salad may be one of my all time favorites, but the ricotta salata version is definitely a nice and inviting alternative.
Tomato, Basil and Ricotta Salata
This is a very simple recipe. Measurements can be adjusted to your preferred serving size.
one chunk of ricotta salata
1-2 roma tomatoes
fresh chopped basil
Extra virgin olive oil
Chop the cheese and tomatoes into slices or cubes. Sprinkle with fresh chopped basil. Drizzle lightly with olive oil. Serve and enjoy!