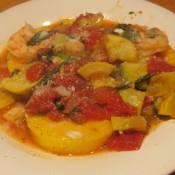 When I started planning to make this dish earlier this week, my original intentions were to simply sauté some vegetables and serve them over sliced polenta. Apparently my creative juices were in high gear that day. I found myself inspired and started reaching for additional complimentary ingredients. Before I knew it, I had a beautiful pan of giambotta (the classic stewed vegetable dish) simmering away on our new stovetop.Within a half an hour, my wife and I were enjoying a fresh, hearty and flavorful meal!
A traditional giambotta would normally include ingredients such as potatoes, eggplant, tomatoes, peppers and zucchini. For this version, I used zucchini, yellow squash, garlic, onion, diced tomatoes and spinach. These are all quick-cooking ingredients, which made for the ideal weekday meal. I like to keep a bag of frozen raw shrimp and frozen scallops on hand for impromptu dishes, and this was the perfect opportunity to put them to use. Letting the shrimp and scallops simmer in the sauce during the last few minutes of cooking guaranteed the perfect, tender texture and taste. We did serve this over sliced polenta, which worked perfectly. But next time I make this, I'm going all out and will be serving it up with a nice crusty loaf of Italian bread to scoop up every last drop of sauce!
SUMMER SEAFOOD GIAMBOTTA
2 cloves garlic, minced
1/4 cup onion, chopped
2 tbspn olive oil
1 medium zucchini, sliced into circles, then circles sliced in half
1 medium yellow squash, sliced into circles, then circles sliced in half
1 14-oz can diced tomatoes
1/2 bag baby spinach
1 dozen raw shrimp, shelled and deveined
1/2 cup raw small sea scallops
In a large sauce pan, heat olive oil over medium heat. Add garlic, sauté for 1 minute or until fragrant. Add chopped onions, stir, sauté for 30-45 seconds or until translucent.
Add diced zucchini and squash, stir and sauté until zucchini and squash start to soften up. Add diced tomatoes and their juices, lower heat to simmer. Add spinach, stir. Add shrimp and scallops. Stir together, cover with lid and let simmer until shrimp and scallops are done, about 5-7 minutes.
Season with salt and pepper (you can add some crushed red pepper for additional heat). Serve it over sliced polenta or along with crusty Italian bread.
Makes approximately 2-4 servings