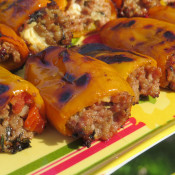 I first made this recipe as an appetizer for our family's Easter dinner. I had wanted to somehow get lamb onto the holiday menu, and decided that ground lamb would be the easiest solution. After seasoning and browning the lamb with classic Mediterranean flavors (mint, thyme, rosemary, Italian seasoning and feta cheese), I used the mixture as a stuffing for miniature sweet peppers. The stuffed peppers were baked and were a huge hit, but I knew that they would be even better grilled.
After getting my grill up and running this past weekend, I wasted no time firing up the stuffed peppers over an open flame. The peppers softened and blistered beautifully, making this dish even better than the first go! You can substitute the ground lamb with ground beef, turkey or sausage if you wish. But if you are looking for a true Mediterranean flavor, give the ground lamb a try. It makes for a perfect outdoor grilled appetizer.
Grilled Mediterranean Stuffed Peppers
8 oz ground lamb (you can substitute other ground meats if you wish)
2 shallots, finely chopped
1 clove garlic, minced
1 tbspn olive oil
2 tsp fresh mint, finely chopped
1 tspn fresh thyme
1 tspn rosemary, finely chopped (I prefer to use ground rosemary)
1/2 tsp Italian seasoning
Salt and pepper to taste
1/2 cup crumbled feta (plain or flavored variety will work well)
1 dozen miniature sweet bell peppers
Heat olive oil in a large frying pan over medium heat. Add shallots, stir. Cook until softened and fragrant, about 3-5 minutes. Add garlic, stir. Cook for 1 minute. Add ground lamb, mint, thyme, rosemary and Italian seasoning. Stir together. Cook until the lamb is fully browned, stirring occasionally. Once browned, drain excess oil, place ground meat into a bowl. Season to taste with salt and pepper. Stir in feta cheese. Set aside to cool.
Slice off the top of the peppers, remove seeds and stems. Once the ground lamb is cooled, stuff each pepper with the stuffing mixture. Be sure to pack each pepper tightly.
Preheat your grill, making sure to lightly oil the grates. Once heated, carefully lay each pepper onto the grate over direct heat. Cook for about 15-20 minutes, carefully flipping occasionally, so that the peppers are evenly cooked on each side. Once the peppers are softened and slightly blistered, carefully remove and plate.
Serve immediately.
If you choose to bake the stuffed peppers instead of grilling, simply place the peppers on a baking sheet into an oven at 350˚ for 20-25 minutes, until peppers are softened.