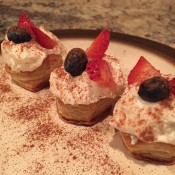 Mascarpone cheese may be one of the greatest Italian food items that I can think of. It plays a key role in two of my favorite desserts – tiramisu and cannoli, and it also makes for a delicious dessert topping when combined with heavy whipping cream. In today's recipe, I'm substituting the traditional heavy whipping cream with non-fat plain Greek yogurt. Not only does this substitution cut down on the fat content, it also gives you a boost of protein, probiotics, potassium, B12 and other nutritional benefits! Whether you are serving this as a dip with fruit, or as a dollop alongside a piece of cake or on a puffed pastry, this version of mascarpone whipped cream will be sure to please!
Whipped Mascarpone and Greek Yogurt


Makes 1 cup

1/2 cup mascarpone cheese
1/2 cup non-fat plain Greek yogurt
2 tspn powdered sugar
2 tspn vanilla extract

Combine all ingredients in a mixing bowl. Using a hand mixer or a stand mixer, mix all ingredients together for about 2 minutes, until thick and creamy. Cover and refrigerate until ready to use.