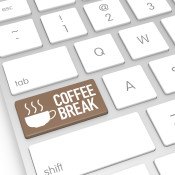 Hello to all of my food blog readers and friends! I wanted to take a few minutes to let you in on my upcoming plans with domskitchen.com.
From the day that I started writing my blog, I always took pride in posting quality updates as often as possible. The goal of my blog was always to keep my readers interested and informed on some of my favorite recipes and cooking tips. Over the the past seven and a half years, I have received nothing but support and encouragement from everyone who took the time to read my posts, and for that I thank you! I have also been given quite a few opportunities to showcase my blog on various platforms…these have been moments that I have always appreciated and have never taken for granted. These opportunities have often stirred up thoughts and ideas on how I can not only improve my blog-writing skills, but also take them to the next level…whatever that may be.
After a bit of consideration (and procrastination), I am finally ready to move forward with one of my long-term goals. I don't want to say too much about this new project just yet, but I promise you that when the time comes, it will be exciting news that I'm sure you all will enjoy.
With that said, I will be taking a temporary break from writing for the blog to focus on this new project. Hopefully this break will not last longer than a few months, but I am not setting any deadlines for myself. This is a project that I feel needs to progress at its own pace in order for me to be truly happy with it. Does this mean that I will be stepping away from the kitchen and no longer working on new recipes? Not at all…in fact, it's just the opposite. I have a bunch of new and creative recipes in mind that I plan on putting together, but for now their direction will be geared towards this newly planned project. Once I get my new project up and running, the blog will be back to business as usual!
You will still see me popping up every now and then via my Facebook and Twitter pages with a post on a food recommendation or a quick tip or trick that I may find worth sharing. But for now, the new recipes are being reserved for something bigger and better…and something again that I'm sure you all will enjoy. So please be sure to continue checking in with me occasionally, as I will be sure to share updates with you as often as I can.
Ciao for now,
Dom