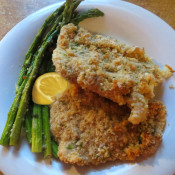 Here's a recipe that with just one additional ingredient – the mighty lemon – you can turn a traditional crusted flounder into a zesty, flavor-filled dish. It is also perfect for this Lenten season. I always enjoy adding a bit of lemon to my seafood. By simply adding the zest and juice of one lemon to the batter and breading, you get the flavor baked right into the fish. Simple and easy!
Lemon Parmesan Crusted Flounder
4-6 flounder fillets (you can also use tilapia or cod)
1/2 cup breadcrumbs
1/4 cup grated parmesan cheese
1 egg
zest and juice of 1 lemon
dash of salt and black pepper
Preheat oven to 350˚. Lightly beat egg and lemon juice in a bowl (you can add just a bit of water to make the egg batter last). In another bowl, mix the breadcrumbs, parmesan cheese, lemon zest, salt and pepper. Dip the fillets into the egg batter, then pat them into the breadcrumb mixture until evenly coated. Place the fillets on a lightly sprayed 9×13 glass dish. Bake for 15 minutes until flaky.