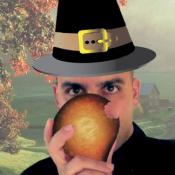 Once again, we have come to that special time of year when we gather with family and friends to give thanks, as we prepare for the upcoming holiday season. This year, I am very thankful for the health and well-being of all of my family and friends. On a lighter note, I am also thankful for having the unique opportunity of personally meeting one of my favorite celebrity chefs (I'll be sharing that photo with you in an upcoming post).
Because Thanksgiving is such a traditional family holiday, I always felt that I should share with you the recipes that my family and I tend to enjoy. If I cannot speak for the recipe or how it tastes, then there is no reason for me to share the recipe on my blog. Unfortunately, I have shared with all of you in the past years most of my family's Thanksgiving recipes! So this year I am simply going to list for you all of the recipes that have been featured on my blog…the recipes that we enjoy at our family table during this festive season. As with all of my recipes featured on this blog, please feel free to modify them to your liking and turn them into your own special dishes!
I would also like to take this time to remind everyone to think of those less fortunate than us, and if at all possible, donate whatever you can to help feed and clothe those who are in need. If you are in or around the Philadelphia area, I highly suggest donating to the Preston and Steve Camp Out for Hunger Food Drive. You can get more information on this incredible event by clicking here.
Wishing you and yours a Healthy and Happy Thanksgiving!
SOUPS
ITALIAN WEDDING SOUP
(this is a quick version of the classic Escarole (aka Scadole) Soup
20-25 mini meatballs, fully cooked (rolled half as big as traditional meatballs)
6 cups chicken broth
2 cups beef broth
1 package frozen crinkle cut carrots
1 10oz. package frozen chopped spinach, defrosted and drained
1 cup uncooked orzo pasta
Salt and pepper to taste
Parmesan cheese to taste
Place broths and meatballs in soup pot. Simmer 10 minutes, add spinach and carrots. Bring to boil,
add pasta and simmer 10-15 minutes. Season to taste, ladle into bowls and garnish liberally with cheese.
PUMPKIN SOUP
2 tbsp. butter
1 onion, diced
2 stalks chopped celery
2 carrots, chopped
2 tbsp. flour
1 tsp. pepper
4 c. clear chicken broth
1 c. pumpkin puree
1 tsp. sugar
Saute onion, celery and carrots in butter in soup pot. Add flour, broth, pumpkin, pepper, sugar. Simmer for 1/2 hour.
SIDES
THANKSGIVING SAUSAGE STUFFING
2 celery stalks, chopped fine
1 medium yellow onion, chopped fine
1/2 stick butter
1lb. Sweet Italian Sausage, removed from casing
Salt
Pepper
Oregano
Celery Salt
(add all seasonings to taste)
1 bag Pepperidge Farm Herbal Stuffing Mix
In a large pan, melt butter. Add onion and celery and cook until soft. Add sausage, season with salt, pepper, celery salt and oregano. Cook until sausage is brown. In a separate pan, cook 1/2 bag of herbal stuffing (entire bag for larger crowd). Follow instructions on bag for butter and water measurements (for extra flavor, substitute chicken broth for water). When finished cooking, combine herbal stuffing with sausage mixture; stir together. Spoon into a greased 13×9 baking dish (I prefer an aluminum dish for this), cover with aluminum foil and heat in oven at 350º for approximately 30 minutes.
For extra crunch, you can add chopped walnuts, pecans or chestnuts to the mixture before baking.
FRESH CRANBERRY COMPOTE
6 ounces fresh cranberries, rinsed and picked over
1 tablespoon orange zest
1/2 cup sugar
1 cup water
Pinch of salt
Pinch of ground cinnamon
1 tablespoon cornstarch
1/4 cup fresh orange juice
In a non reactive, non-stick saucepan, over medium, combine the cranberries, zest, 1/2 cup sugar, water, salt, and cinnamon. Bring the mixture to a boil and cook for 10 minutes. Dissolve cornstarch in the orange juice. Add the mixture to the cranberries and stir to blend. Simmer another 15 minutes until the mixture is thick. Remove from the heat and cool completely. Cover and refrigerate until chilled.
BAKED BUTTERNUT SQUASH WITH APPLES
2 tblspn butter
1/2 tspn ground cinnamon
1/4 tspn ground nutmeg
1-1/2 lb butternut squash, peeled, seeded and cut into 1/2-inch cubes
2 to 3 large Granny Smith apples, cored, cut into 1/2-inch cubes
1/4 cup maple syrup
1 tblspn balsamic vinegar
1/4 cup chopped pecans,toasted
Heat oven to 375ºF. Place butter in 13×9-inch glass baking dish; heat in oven 5 to 7 minutes or until melted.
Stir cinnamon and nutmeg into melted butter. Add squash; toss to coat. Cover with foil; bake 20 minutes. Meanwhile, in a large bowl, mix apples, syrup and vinegar.
Pour apple mixture over squash. Cover; bake 10 minutes. Stir; bake 5 to 10 minutes longer or until squash is tender. Stir before serving and sprinkle with pecans.
Cake
2-1/2 cups all purpose flour
2 tsp baking powder
1-1/2 tsp cinnamon blend (mixture of cinnamon, ginger and allspice)
1 tsp baking soda
1/2 tsp salt
1-1/2 c granulated sugar
3/4 cups butter or margarine softened
3 eggs
3/4 cups solid pack pumpkin
1/2 cup milk
1 tsp vanilla
Filling
1 pkg (8 oz) cream cheese softened
1/2 cup granulated sugar
Preheat oven to 350 degrees. Spray a deep baking dish with nonstick cooking spray.
Combine flour, baking powder, spices, baking soda and salt in small bowl. In large bowl beat sugar and butter till light and fluffy. Add eggs, pumpkin,milk and vanilla. Beat well! Slowly add flour mixture to pumpkin mixture. Set aside.
Filling- Whisk cream cheese and sugar till well blended. Smooth 2-1/2 cups cake batter on bottom of pan. Spoon cream cheese mixture over cake batter using a large spreader. Pour remaining batter over top and spread evenly.
Bake 45-50 minutes . Cake tester will come out clean.
Before serving- sprinkle with powdered sugar-serve with whipped cream sprinkled with a bit of the cinnamon spice mix if desired.
PUMPKIN TIRAMISU
Courtesy of Better Homes and Gardens
1/4 cup pure maple syrup or maple-flavor syrup
1 tablespoon bourbon
1/2 of a 15-ounce can (3/4 cup) pumpkin
1 teaspoon ground cinnamon
1/2 teaspoon ground ginger
1/4 teaspoon salt
1/2 cup whipping cream
1/4 cup granulated sugar
1/2 of an 8-ounce container mascarpone cheese, softened
1 tablespoon powdered sugar
1/2 cup whipping cream
1 3-ounce package ladyfingers, split
Ground nutmeg or freshly grated nutmeg
Line a 9x5x3-inch loaf pan with plastic wrap; set aside. For syrup, in a small bowl, combine maple syrup and bourbon. Set aside.
For filling, in a small bowl, combine pumpkin, cinnamon, ginger, and salt. In a small mixing bowl, combine 1/2 cup whipping cream and granulated sugar. Beat with an electric mixer on medium speed until soft peaks form (tips curl). Gently fold whipped cream into pumpkin mixture.
For topping, in another small mixing bowl, combine mascarpone cheese and powdered sugar. Beat on low speed until combined. Gradually beat in 1/2 cup whipping cream just until thickened (do not overbeat).
To assemble, arrange half of the ladyfingers in a single layer in the bottom of the prepared pan. Drizzle evenly with half of the syrup. Top with half of the filling, spreading evenly. Arrange remaining ladyfingers in a single layer over filling. Drizzle with remaining syrup and top with remaining filling. Dollop topping over filling. Using the back of a spoon, carefully spread topping evenly over filling. Cover and chill for 8 to 24 hours.
Use the plastic wrap to lift tiramisu out of pan. Place tiramisu on a serving platter. Sprinkle with nutmeg. Carefully cut the dessert crosswise into slices. Makes 6 servings.
PUMPKIN CRISP
(Originally posted at myrecipes.com)
1 (15 oz) can pumpkin
1 c. of evaporated milk
1 c. sugar
1 tsp vanilla extract
1/2 tsp. ground cinnamon
1 (18.5 oz) pkg butter-flavored yellow cake mix
1 c. melted butter
Optional:
1 c. chopped pecans
Ground nutmeg
Whipped cream
Vanilla ice cream
Preheat oven to 350F.  Stir together the first five ingredients. Pour into a lightly greased 13×9 inch baking dish.  Sprinkle cake mix evenly over pumpkin mixture (if you wish to add pecans, sprinkle them evenly over cake mix).  Drizzle melted butter over cake mix. Bake at 350F for 60 – 65 minutes or until golden brown**.  Remove from oven and let stand for 10 minutes before serving.  Serve warm or at room temperature.  IF desired, serve with whipped cream, sprinkle of nutmeg or vanilla ice cream.
** If baking ahead of time, I baked for about 55 min then re-heat again for another 10 min before serving.
THANKSGIVING COCKTAILS
THANKSGIVING TOAST
1 oz. good quality Gin
1/2 oz. canned cranberry sauce
1/2 oz. Ginger ale
Garnish: 3 roasted walnut halves, speared cranberries or a sprig of rosemary
Shake vigorously with ice and strain into martini glass. Add a float of ginger ale after straining. Garnish with 3 roasted walnut halves, speared cranberries, or a sprig of rosemary
PUMPKIN PIE-TINI
1 oz milk
2 tbsp Pumpkin puree
1.5 oz Three-O vanilla vodka
1.5 oz creme de cacao
Using a small amount of honey, rim martini glass with graham cracker crumbs. Shake milk and pumpkin puree over ice to combine. Pour in remaining ingredients and shake well. Strain into the martini glass.
LEFTOVERS
QUICK TURKEY SCALLOPINI
1 tbspn olive oil
1 small onion, chopped
1 clove garlic, minced
1 green bell pepper, chopped
2 cups shredded turkey (if you have a food processor, 3-4 quick pulses will do the job quickly)
1 cup spaghetti sauce
salt and pepper to taste
1 tspn Italian seasoning
splash of red wine
Heat oil in a pan over medium heat. Add onions, let cook for 30 seconds, add garlic; stir. Add chopped peppers, stir. Let cook until peppers are crisp-tender. Add the shredded turkey and the sauce, stir. Add salt, pepper and Italian seasoning, stir. Add splash of red wine, stir. Lower heat, simmer until warmed throughout.
Serve over rice, in a crispy roll, along side of polenta or in fajita shell topped with shredded cheese!