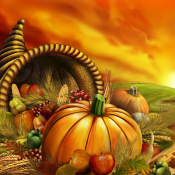 Thanksgiving dinner. The granddaddy of all traditional holiday meals! Whether it's the escarole soup, the homemade stuffing, cranberry sauce, one of the dozens of side dishes, or the turkey itself, there is some part of this meal that holds a special spot in everyone's heart. Of course, the Thanksgiving meal would not be complete without the final act – the dessert. And in my mind there is no better Thanksgiving dessert than the traditional and classic pumpkin pie. I've tried many different pumpkin desserts, from pumpkin cheesecakes and pumpkin cream rolls to pumpkin ice cream and pumpkin trifle. But it's the good, old fashion pumpkin pie that I prefer on T-day with a nice hot cup of coffee for dessert.
This year however, my wife (who again, is the baker of the household), found an interesting alternative to traditional pumpkin pie at myrecipes.com. It's a pumpkin crisp, and I can not wait to dig into it after the big meal! What's nice about this dessert is that it doesn't stray far from traditional pumpkin pie, both in taste and texture. Actually, the filling itself is almost identical to pumpkin pie. What makes this dessert different and special is the  crispy and buttery topping. Think upside down pumpkin pie! It's a subtle change from the norm, but the taste is outta this world. 'Melts in your mouth' is an understatement You'll want to serve this warm or at room temperature. Goes great with a scoop of vanilla ice cream!
Happy Thanksgiving!
PUMPKIN CRISP
(Originally posted at myrecipes.com)
1 (15 oz) can pumpkin
1 c. of evaporated milk
1 c. sugar
1 tsp vanilla extract
1/2 tsp. ground cinnamon
1 (18.5 oz) pkg butter-flavored yellow cake mix
1 c. melted butter
Optional:
1 c. chopped pecans
Ground nutmeg
Whipped cream
Vanilla ice cream
Preheat oven to 350F.  Stir together the first five ingredients. Pour into a lightly greased 13×9 inch baking dish.  Sprinkle cake mix evenly over pumpkin mixture (if you wish to add pecans, sprinkle them evenly over cake mix).  Drizzle melted butter over cake mix. Bake at 350F for 60 – 65 minutes or until golden brown**.  Remove from oven and let stand for 10 minutes before serving.  Serve warm or at room temperature.  IF desired, serve with whipped cream, sprinkle of nutmeg or vanilla ice cream.
** If baking ahead of time, I baked for about 55 min then re-heat again for another 10 min before serving.
THE PRESTON AND STEVE CAMP OUT FOR HUNGER

Many of us are blessed to have a beautiful meal to share with family and friends on Thanksgiving day. Yet there are still so many who are in need of food and support, not only on Thanksgiving but all year round. Thanks to the Preston and Steve Show (Philadelphia's top rated morning radio show), we all have an opportunity to help give to those less fortunate. Every year just after Thanksgiving, the P&S show launch their Camp Out for Hunger Campaign. By teaming with Philabundance, the Delaware Valley's largest hunger relief foundation, the P&S show set up camp for an entire week at the Metroplex Shopping Center in Plymouth Meeting, Pa. This camp out (which is turning into more of a huge, celebrated event each year), is the perfect opportunity to not only meet some of your favorite local radio, television and sports celebrities, but to also donate in any way that you can to help those less fortunate. The P&S show will be collecting food and monetary donations throughout the entire week of November 28-December 2. You can also donate various ways through Acme Markets, either by making an online purchase or  placing items in the P&S drop-boxes located in various Acme supermarkets.
For more information on how to help with this very special and important cause, please visit this link.