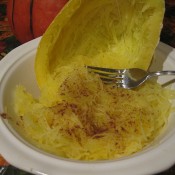 Looking for a healthy and tasty seasonal side dish that's quick and easy to prepare? Try a little spaghetti squash! Along with the other variety of squash that are popular this time of year (acorn, butternut and pumpkin), spaghetti squash are easy to find at farmers markets and in your grocer's produce section. While I do enjoy the taste and various textures of all the squash mentioned above, the spaghetti squash, in my opinion, is easiest to prepare. The spaghetti squash, which is oblong in shape, shares the same hard exterior flesh as the other squash when raw. When cooked, however, the interior of the spaghetti squash falls from the flesh in strands or ribbons, similar to spaghetti.
There are a few different ways to prepare spaghetti squash, the most common being baked in the oven, sliced in half, cut-side face down in a baking tray filled with a bit of water. While I am not a big fan of using the microwave these days, the spaghetti squash is actually very easy to prepare in 'nuker'. Whether you are preparing the squash at meal time or in advance, the cooking and prep time are just a few minutes. Once the squash is cooked, you can toss it with spaghetti sauce, a little salsa, or even just some butter and parmesan cheese. This, of course, being my favorite season of the year, I couldn't resist sharing with you my autumnal take on this dish. Just follow the simple steps below, making sure to handle the squash VERY CAREFULLY once cooked. While microwaving the squash does save lots of time, the squash will be extremely hot when done and will need to be handled with a towel or an oven mitt.
FALL SPAGHETTI SQUASH
1 spaghetti squash
1 tbspn brown sugar
1 tbspn butter
1 tspn vanilla extract
Salt and Pepper to taste
Generously pierce the skin of the squash. Place in the microwave at high for 3 minutes. CAREFULLY remove the squash, let sit for a few minutes, until cool enough to handle. This will soften the flesh and will allow you to easily cut the squash in half length-wise and scoop out the seeds. Lightly moisten the inside of both halves of the squash with some water. Place both halves cut-side face up back into the microwave, and cook on high for 4 minutes. CAREFULLY remove the squash and again set aside for a few minutes until cool enough to handle. Using a fork, gently scrape the inside of the squash into a bowl. The inside will fall off of the flesh in strands similar to spaghetti. Add the brown sugar, butter, vanilla, salt and pepper. Stir and serve.
Note – you can adjust the amount of brown sugar, butter and vanilla to your liking. You can also add other fall favorite spices to this, such as nutmeg, cinnamon or allspice. You can also add pecan pieces for a little crunch.