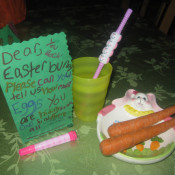 Easter week is here once again and I'm sure that many of you, like myself, are preparing to bake the traditional Easter breads and pies. It's a time of year that I look forward to and take pride in being able to carry on my family's traditions. Over the past few years, I have shared on this blog many of my family's traditional recipes. In fact, as I was preparing to write this week's post, I realized that I have run out of family recipes to share with you. Instead of searching out and sharing a recipe that I am not familiar with, I thought it would be best to simply share all of the links to my previous Easter posts, in case you are looking for a last minute idea for your Easter week family gatherings. Below are a list of all Easter-related links, most of which are from my family's table, along with a few delicious dishes that were submitted by my friend Emma Caparelli Loerky.
I do, however, have one new item to share with you. My good friend Joe was gracious enough to allow me to share a photo of his Great-Grandmother, Giuseppina Benincasa, flipping her Easter fritatta. This photo was taken at her house on Tulip Street, in the Tacony section of Philadelphia. Everything about this classic photo sums up the love and dedication that so many Italians and Italian-Americans bring to the kitchen, especially during this special time of year. As soon as I first saw this photo, I knew that every one of my readers would enjoy it. Thanks, Joe, for allowing me to share it.
Happy Easter to you and yours!
Please click on the links below for previous Easter recipes.