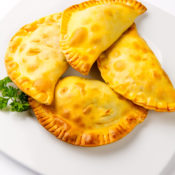 Superbowl Sunday is like the Thanksgiving holiday for party foods. Everything from pizza, wings and ribs, to sandwiches, salads and dips are all well represented at any game day festivity. And not unlike turkey day, you will most likely overindulge. But it's one day out of the year, so strap on your stretchy pants and enjoy!
The key to a successful game day party, and the reason why this menu works so well, is because you want to have easy access to low maintenance food. Even if you're not fully wrapped up in the game, you'll still be entertained by other party goers, the commercials, and maybe even the half time show. This leaves little time to sit down and enjoy a traditional meal that requires significant time away from the action. The idea that I'm sharing with you today can incorporate just about any of the go-to game day foods into a convenient, almost bite-sized pastry pocket.
Empanadas, a Latin-American inspired dish, are pastry pockets that are fried or baked, and can be stuffed with just about any combination of food and spice. You can find recipes that have various fillings, from savory (beef, chicken, pork, rice, vegetables with herbs), to sweet (chocolate, fruit, custards). Fried empanadas will give you more of a crunchy exterior with a soft inside, while baking will make more of an even-cooked, pie-crust texture. You can decide which method is best, based on your choice of filling or your cooking preference.
You can click here for a basic empanada dough recipe.
As I mentioned earlier, there are countless recipes available online that you can search out based on what you have in mind. Or you can get creative and come up with your own filling combination. Many of the game day foods that I mentioned earlier would make for fantastic empanada fillings. For example, you can go with:
A buffalo or barbecue chicken filling.
How about a cheese steak or a roast pork filling?
Better yet, a meatball mozzarella filling!
A jalapeño popper filled empanada would be considered a real touch down (yeah, I went there).
You can go all in this year and serve Superbowl team-related foods, like New England lobster empanadas as an appetizer and Georgia peach empanadas for dessert.
As you can see, you can cover all of your party foods by serving them empanada-style. What's nice about this method is that you can take care of all preparation well ahead of time if you are hosting. Baking the empanadas during the party will allow you plenty of free time to mingle with your guests. And if you are bringing empanadas to a party, have the empanadas prepared and ready to be baked at the party, so they are served fresh. Just be sure to let your party host know that you will need use of their oven for about a half an hour.
As I'm sitting here writing, I'm still unsure of what fillings I am going to use in my game day empanadas. I do know that I will in some fashion be using ricotta salata, which is a pressed, dried and salted ricotta that can be shaved, grated or cut into cubes…and according to my cheese monger, will make for a perfect empanada filling. I'm thinking I'll mix it with some fresh herbs, but that'll most likely be a game day decision. My daughters also put in a request for chicken, bacon and cheddar filled empanadas.
Below is a link to my Apple Cinnamon empanada recipe, which I shared as a Cinco de Mayo feature a few years back. I have also shared my recipe for Mini Inside-Out Pizza, which pretty much qualifies as an empanada. The link to that recipe is also below.
While doing my research for this post, I came across some great resources, one of which really offers incredible ideas for a wide variety of empanadas. Laylita.com, which is a fantastic food website, has an entire section dedicated to empanadas. Everything from basic dough recipes to cooking techniques to a beautiful and extensive list of tasty suggestions…it is the Empanada 101 guide, and you can find a link to that site below as well.
Whatever empanada recipe you decide to use or create, be sure to make plenty. These are a guarantee party food touchdown!
BEER HERE!
If you really want to score some extra crowd points, don't forget the beer! My game day pick is anything by Samuel Adams or Sweetwater Brewing Company. Both breweries produce quality beer, and are a good choice to represent the New England and Atlanta regions at your game day party.