Before I get into the events surrounding the Best Dish pilot taping, I would like to explain to you that I am contractually bound to not share specific details about the taping, nor am I going to give away the final results. The show is currently being shopped around to various networks, and as soon as it gets picked up, I will be sure to let you all know. Although I was selected to be a competitor for Best Dish, this entire project is the creative child of Paul Tucker and Chris Kelly, of 4 Lion Productions. This show is their labor of love, and I was fortunate enough to be selected to be part of it. To give away too many details would be an injustice to their creative efforts. You will, however find some behind the scenes photos and an exclusive one minute teaser at the bottom of this post! Now, on to the conclusion of my Best Dish recap…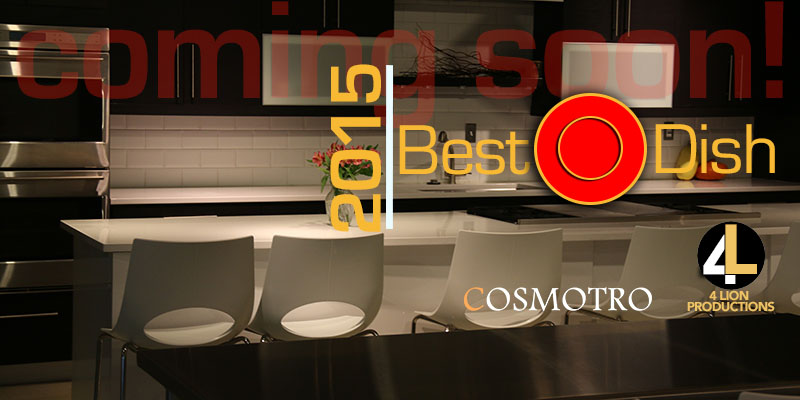 The Big Day!
My call time to arrive at the Best Dish taping was 8:00 in the morning. Although my mind was racing just a bit on not knowing what to expect that day, I was surprisingly not very nervous, but rather focused. I had to submit a handful of recipes for consideration a few days prior, and was asked to make my Chicken Cacciatore Casserole, which is a variation of my Grandmother's cacciatore recipe. So not only was I given a chance to showcase my skills, I was also going to be representing my family's honor. Stuff had just gotten real!
The episode taping was to take place at the beautifully renovated Dorrance Hamiton Culinary Center, in the University City section of Philadelphia. As I entered the facility, I could tell that production was already well under way. There were a handful of camera, lighting and sound people setting up and testing their equipment. I was immediately greeted by Paul Tucker, one of the show's producers and one of the gentlemen who I had done my audition for (I would get to meet Chris Kelly, the show's other producer, not long after). Both Paul and Chris couldn't have been nicer and more enthusiastic about having me there for the taping. They both treated me as a friend that they may have known for years. I was then introduced to the crew, who all took time from their busy prep schedule to make me feel welcomed. I toured the facility and got to go back to the storage room to pick out whatever kitchen items I needed for the day. This was impressive for me. You name the kitchen gadget, they had multiple versions of it! The ingredients for the recipe were already purchased by the production team ahead of time, so from this point on, all I had to do was prep my food…while on camera. Yikes!
I was then brought into the 'green room' to meet the show's hosts, Ralph Pallarino and Francesca Ruscio. Like the rest of the crew, they were very welcoming and enthusiastic. I also realized that they had much bigger duties than I did for that day, so I wanted to give them their space to focus on their scripts and whatever else they had to prepare for. But when the opportunity allowed, I had some great conversation with both Ralph and Francesca. Ralph is a former chef and owner of a handful of restaurants in the area, and he shared quite a few words of wisdom, which I very much appreciated. And Francesca, who many in the Philadelphia area would know as PHL17's weather reporter, couldn't have been more optimistic and encouraging. I knew that it would be a great experience having them both steer the ship.
My next stop would be to the make-up chair. Aside from Halloween and a few Mummers parades from many years past, make-up hasn't been part of my routine. Luckily, I was in good hands with make-up artist Liz Jacobs. After spraying me with foundation, and adding stuff to my lips and eyes (can you tell that I have zero make-up knowledge?), Liz had me looking better than I have in a long time. And just like everyone else that I had met that day, Liz was just great. A friendly and upbeat personality who really made me feel comfortable and relaxed. Knowing that she would be there to powder me up before each take was nice reassurance!
I was so caught up in this surreal moment, that I had almost forgotten that I would be competing against another home cook. Jess Ragni, my competitor for the day, is a fellow DelCo resident and someone who, like me, is very passionate about her family and their cooking. We immediately got along very well, and spent a good amount of the early down time talking, joking around and comparing life stories while we waited for the day's fun to begin.
As I said in my introduction paragraph, I'm not going to divulge too much information about the day's taping. I'll let the episode itself tell the story once the pilot airs on television. But I will now share with you some of my fondest memories of the day…
The Confessional Chair
The first segment that we taped was our interviews in the Confessional Chair. This is when both Jess and I got to tell our story to the camera, letting the viewers know who we were, why we were there and what out goals were. We also took advantage of this time to do a little fun trash talking about each other. This was a competition, after all! However, once the cameras and mics were off, we were rooting for and encouraging each other throughout the day. I'm not sure if this is how contestants treat each other on other cooking shows, but I wouldn't want to have it any other way. It was an honor for both of us to take part in the pilot episode, so what better way to get through the battle than with a little extra encouragement?
Into the Kitchen
Once we were done taping our interview segments, it was time to get down to business. We were both set up at our own cooking stations in the big industrial kitchen. I had only been in a professional kitchen one other time, and it was about half the size of the room that I was currently standing in, so it was a bit overwhelming for me. The crew gave me plenty of time to become familiar with my surroundings and the big industrial stove that I would be using. From here on, I had convinced myself that it would be business as usual, and I would enjoy every moment of it.
I had told the crew that because my dish required a decent amount of simmering time on the stove, there would be some unavoidable boring down time. Filming someone stirring a simmering sauce pan for 10-15 minutes wouldn't make for exciting television. Camera man Chad Jenkins took great advantage of filming the prep work that I was doing, which would make for the more exciting portions of the early cooking phases of my dish. Like everyone else who I had worked with that day, Chad was awesome. He would check in every few minutes to ask if anything exciting was about to go down. Once I gave him the heads up that some action was going to take place, he would jump right in and capture the moment, knowing what angles worked well and best highlighted what I was doing. Aside from occasionally having to stop taping due to the loud, revving sounds of a kitchen exhaust fan kicking in, my cooking segment was pretty much filmed in real time, which I found to be very impressive.
During my down time, while the team were either filming one of Jess's segments or setting up for a different shot, I really took advantage of soaking in all of the goings-on that were happening around me. Although I have never before been around a film crew of this size, I have been in my own 'rodeos' quite a few times. Being a graphic designer by trade, I have been through my share of deadlines and production photo shoots over the years. Being among this stellar production team brought me back to my early days of being a production artist when I worked at CompArt, a comp shop that produced The South Philadelphia Review and The Philadelphia Weekly newspapers. I worked with a group of creative talents, each knowing their role and when to step up to be part of the big job that had to be done. We worked together as a unit, and got each other through the long grinding deadlines, with a beautifully finished product each and every time. Watching this team in action reminded me of those days, and actually comforted me a bit as we worked our way through the long day's shoot.
Judgement Time
After a long day of prepping our food while being filmed, it was time to plate our dishes and step up in from of the judges. Just as you would see on many other competition shows, Jess and I were to present our dishes to three judges, all who have significant ties to the Philly food scene. This was the moment when my nerves started to kick in a bit. Not so much because of the fear of losing (or winning, for that matter), but rather because I was actually serving my dish to those who have legitimate clout. Here I am, someone who enjoys cooking at home as a hobby, with zero professional experience, getting ready to be judged on my cooking skills. How did I get here, again? Well, I'll tell you how…passion and love.
Obviously, I can't share the end results with you…you'll just have to wait until it airs! Regardless of the final vote, I can honestly say that I came home that night feeling like a real winner. It wouldn't have mattered if my recipe was voted Best Dish or not. I was blessed with the incredible opportunity to take part in a very special project with an incredible group of talented people. I had mentioned earlier a bunch of the people who I got to work with, but I cannot wrap this up without giving special thanks to James, who was there to help out with whatever I needed that day, whether it be in the kitchen, while filming, or during my down time. I also want to thank Donni James, who also spent time talking with me about food and cooking while he wasn't doing his production duties (all of the photos below are credited to him and 4 Lion Productions). And I especially want to thank sound guru Artie Amici, who brought levity to the day. Aside from being comic relief, he offered up some great conversation throughout the day, about his line of work, music, and life in general. He is a dude among dudes, and I am a better person for having the opportunity to meet him.
I would again like to thank Paul Tucker and Chris Kelly for giving me such a unique opportunity to take part in their creative labor of love, and I look forward to more opportunities with their team down the road.
Finally, I would like to thank all of you who took the time to read my recap of this fun journey. I am very optimistic that this new phase of my food blog will continue in one form or another, and I look forward to continue sharing the details with you. I had learned so much from this unique experience, and if time and fate allow me to continue working with the Best Dish team, I'll be sure to give it my all. Of all the things that I learned, I realized most of all that my true passion still lies in sharing my food experiences, techniques and stories with my readers, and I plan to continue this passionate hobby of mine for a long time to come.
Cent'Anni!
The Best Dish Teaser Video and Behind the Scene Photos!
Courtesy of 4 Lion Productions
Best Dish Cooking CompetitionBest Dish Cooking Competition – Chris Kelly Francesca Ruscio Ralph Pallarino Dominic Condo Jess Ragni Kiesha Colbert William Dade – 4 Lion Productions

Posted by Best Dish on Monday, February 8, 2016