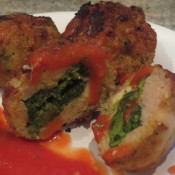 Meatballs and sausage. Two staples on an Italian-American menu. Sunday gravy would not be the same without them! For today's recipe, I'm combining the two into one, with a surprise stuffing in the middle. Mind-blowing, right? The easy thing about making sausage meatballs is that you don't have to put as much effort or ingredients into it as you would a traditional meatball. The meat is already seasoned, and there are more fats contained within it to help hold the shape of the meatball without adding breadcrumbs and eggs. You can, of course, add these ingredients if you like. But they are not necessary. Another good thing about using sausage meat for meatballs is that there is a wide variety of sausages available. From your basic hot or sweet Italian sausage, to chicken or turkey sausage, to gourmet sausages filled with ingredients such as spinach, sun-dried tomatoes and feta. Dare I say you can even use the Gimme Lean vegetarian sausage substitute, if that is your preference. Any of these would make for fantastic meat for these sausage meatballs. And if you can find ground sausage loose (not in the casing), all the better! It will save you some time from cutting the meat out of the casing when you are ready to get rolling (see what I did there?).
I'm not going to get into specifics on ingredients for this dish, because you can really get creative and go in whatever direction you desire. However, I will list some interesting filling combinations that would work well with ground sausage. Keep in mind that you will need a decent amount of meat to surround the filling that you are using. Certain cheeses that you may decide to use may get very soft within the meatball. This is a good thing, but you want to make sure that the filling is fully encased, otherwise the cheese will ooze out of any crevices or openings within the meatball. You are looking at about 6 large meatballs per pound of ground sausage meat. To help contain the shape and texture of the rolled meatball, simply roll the meatballs into some breadcrumbs. This will also make for a nice, crunchy texture.
Filling Suggestions
For my sausage meatballs, I am using a nice chicken and cheese sausage that I bought from my local butcher, and am stuffing them with broccoli rabe and extra sharp provolone. Here are some of my other suggestions that would make for great stuffings in a sausage meatball.
Roasted Red Peppers
Sun-dried Tomatoes
Provolone Cheese (mild, medium or sharp)
Mozzarella Cheese (a smoked mozzarella would be fantastic!)
Feta Cheese
Black or Green Olives
Pesto
Prosciutto
Shrimp