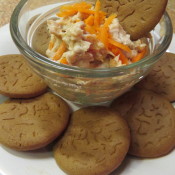 One of the things that I really enjoy about writing a food blog is sharing my ideas that are thought of 'outside of the box.' Especially when it comes to a more traditional type of dish. If you're in search for a traditional recipe, chances are that someone in your family has a recipe for it. And if they don't, there are most likely countless versions that exist online. This is also the time when I like to put my creative side to good use. Instead of trying to change or modify a perfectly established and well-balanced dish, I prefer having fun with it…reinventing it, if you will.
Recently I had a craving for carrot cake. Although I've never made a carrot cake from scratch, I know that there is a decent amount of work involved. I also know that there are more than enough perfected recipes floating around online that probably would not benefit much from my improvising. Being that party dips are always a fun approach (and are pretty popular at my family parties), I decided to give a carrot cake dip a try. Since cream cheese and spices are key carrot cake ingredients, this was actually an easy recipe to put together. I added the basic spices (cinnamon, nutmeg, cloves and brown sugar), along with chopped walnuts, toasted coconut and, of course, shredded carrots, and folded them into the cream cheese (you can also add raisins if you prefer). Using ginger snaps to scoop up the dip, the flavor was spot on…and much easier to make than an actual cake!
So if you're a fan of carrot cake and fun party dips, give this recipe a try. I promise you it'll be a big hit!
Carrot Cake Dip
12 oz cream cheese, softened
1/2 cup powdered sugar
1/3 cup brown sugar
3/4 tspn cinnamon
1/4 tspn nutmeg
pinch of ground cloves
1/2 cup finely shredded carrots
1/4 cup toasted coconut*
1/4 cup chopped walnuts
1/4 cup raisins (optional)
Combine all ingredients, except for carrots, coconut, walnuts and raisins, mix on medium high speed for 1-2 minutes. Fold in remaining ingredients. Serve with ginger snaps.
* For tips on toasting coconut, click here.