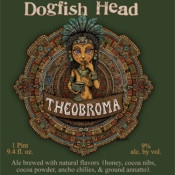 It's hard to believe that Valentines Day is only a few weeks away. Although I still have some time to plan out a special meal to share with you (I'm thinking some sort of risotto), it's never too early to pass along a good recommendation for a gift…and I'm not talking about gold dipped roses, either. If you and/or your loved one are fans of beer and chocolate, I highly suggest searching out a bottle of Dogfish Head Theobroma.
Translated from an ancient word that means 'food of the gods', Theobroma is a chile beer (a light colored ale that is infused with peppers, oils or spices, ranging from mild to REALLY hot), accented with just the right amount of cocoa and honey. This is probably one of the most interesting and complex beers that I have ever tasted, and definitely one that I really enjoyed.
Cocoa and pepper are a very trendy combination nowadays, but one that I didn't know what to expect from in a beer. Cocoa/chocolate beers can often be misleading to begin with, especially to those that have never had one, or are drawn to it because of the chocolate appeal. Most often, these beers are not sweet like chocolate, but rather bitter like a pure cocoa, often added to a stout or porter. I liken them to a burnt coffee rather than the expected chocolate malt taste. But because Theobroma's backbone is a lighter ale, the sweet cocoa accents really do shine through. The peppery taste is mild, but enough to be recognized. The honey adds just the right amount of smoothness. Even a little bit of vanilla could be detected in there as well. Don't let this beer fool you, though. At 9%, this one is definitely a heavy hitter, and one that should be shared with another…or by yourself if you're planning to just chill out at home while catching up on your favorite movie or tv show.
Unlike most other beers, which are offered either seasonally or year round, Theobroma is a special, limited-edition rotating brew offered by the Delaware-based craft brewery. In other words, if you see it, get it, because you might not know when you'll find it again.
I highly recommend serving Theobroma with a roasted chicken or a cocoa-rubbed pork, and of course with your favorite chocolate dessert.
Cheers!