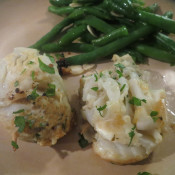 The May 2013 edition of La Cucina Italiana magazine has an interesting recipe which immediately caught my eye. Braciole di pesce (sole braciole with almond biscuit crumbs), is their creative play on traditional braciole. For those of you that are not familiar with traditional braciole, it is a thin slice of meat (usually beef) that is rolled with a bread-based stuffing and is pan fried and often added to a Sunday gravy. La Cucina's version is using fillet of sole (which is a thin-cut fillet) stuffed with crushed butter biscuits, almonds and parsley. A very interesting – although odd – combination to say the least.
This dish inspired me to try my own version, instead using flounder and a more traditional stuffing of crabmeat, fresh parsley and breadcrumbs. Now, before I go any further, you are probably wondering what the difference is between my roll-up recipe, and the classic stuffed flounder. The answer: nothing, really. The presentation may be different (the stuffing is contained in the roll-up as opposed to being stuffed in a cut pocket), but the delicious combination works the same for either version.
Just like traditional meat braciole, you can adjust the stuffing ingredients to your liking. Scallops, shrimp and spinach all work well as stuffing ingredients for fish. However, unlike traditional braciole, a fish roll-up, particularly one using a flaky fish such as flounder, is best prepared baked instead of fried. While a flaky fish can be flipped once in a frying pan, its delicate texture would make it difficult to successfully cook on all four sides without falling apart.
To add some depth and flavor, I made a quick lemon, butter and white wine sauce on the stove top and drizzled it on top of the roll-ups after they were done. It was the perfect compliment to the fish, marrying all of the flavors and tastes together with each bite.
BAKED FLOUNDER ROLL-UPS WITH LEMON, BUTTER  AND WHITE WINE SAUCE
4 pieces flounder
salt and pepper
1 6-oz can white crab meat, drained
1/4 cup breadcrumbs
1tbspn fresh chopped parsley, plus more for garnish
1 tspn butter, plus 1 tbspn butter
1 tbspn olive oil
1 shallot, finely chopped
juice of 1 lemon
1 cup white wine
Preheat oven to 350˚. Mix together the crabmeat, breadcrumbs and parsley. Lightly season the flounder fillets with salt and pepper (if the flounder pieces are large, you can cut them in half, length-wise). Lay the flounder out flat and evenly spread the crabmeat mixture on all four pieces. Roll up the fillets and secure tight with a toothpick. Lightly brush the flounder fillets with 1 tspn melted butter.
Place the fillets, seam side down, on a lightly sprayed baking dish. Bake uncovered for about 15-20 minutes or until the fillets become flaky.
About midway through the baking time, you will start to prepare the sauce. Heat olive oil over medium heat in a skillet. Add 1 tbspn butter. When butter is melted, add the chopped shallots, stir in and cook until translucent. Add the lemon juice and the wine, heat until wine starts to reduce.
When the fish is done, remove from the baking tray and place onto a serving dish. Evenly drizzle the sauce over the fillet roll-ups, then sprinkle with additional fresh chopped parsley.
This dish serves well with steamed greens and a crisp white wine.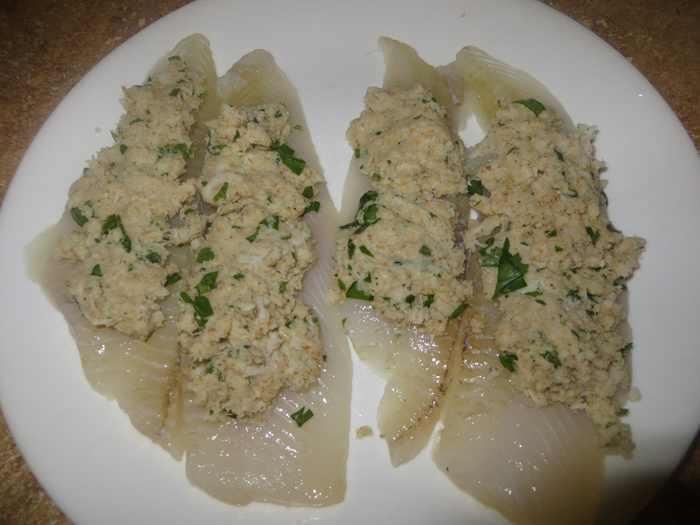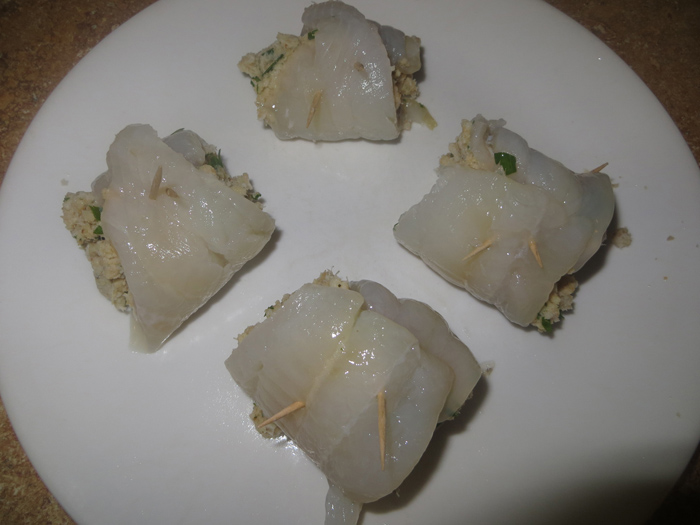 The flounder fillets with the crabmeat filling spread evenly on each piece (top photo),
then rolled and secured with toothpicks (bottom photo).