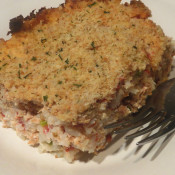 Last summer, I had a wonderfully unique opportunity handed to me, when I was asked to make a dish for the Philadelphia Phillies. I put together Whole Grain Baked Arancini Rice Balls, which went over very well with the team. Ever since, arancini has been on my regular 'craving' list, but it's tough to find the time needed to roll and prepare them. To satisfy my urge, and to save prep time, I put together a baked casserole version that no doubt holds up to the original!
Arancini, the popular stuffed and fried rice balls coated with breadcrumbs, are no doubt a well-loved Italian treat. This updated version of the classic dish incorporates all of the ingredients and flavors into a convenient and easy to make baked casserole. You can use any form of ground meat in this recipe (I went with ground turkey, along with peas and diced tomatoes), or you can get creative with other fillings, such as cheese, chicken, shrimp or asparagus (next time I will be trying a shrimp, asparagus and lemon version). Baking this dish is not only a healthier option, but it also frees up some time that you would normally spend rolling and frying, if you were making the traditional arancini balls.
BAKED ARANCINI CASSEROLE
Ingredients
1lb ground meat (beef, sausage or turkey would all work well)
1 14.5 oz can of petite diced tomatoes, drained
1/2 cup frozen peas
1lb part skim ricotta
1/4 cup grated parmesan cheese
2 cups cooked long grain white rice or multi grain brown rice
breadcrumbs
spices (onion powder, garlic powder, Italian seasoning, salt and pepper)
Directions
In a skillet over medium heat, brown the ground meat. Use spices to season meat to your liking and taste. Add the peas and tomatoes, stir until heated. Drain excess liquid, then set meat filling aside.
In a large bowl, mix together the ricotta, parmesan and cooked rice. Add the meat mixture, mix well.
Lightly spray an 8×8 baking dish with cooking spray. Add the mixture to the dish. Lightly coat the top of the mixture with breadcrumbs, then lightly spray the breadcrumbs with cooking spray. Bake uncovered at 350º for 45 minutes.
Remove from oven, let cool for a few minutes. Slice and serve!
You can add additional tomato sauce to each serving for extra flavor.