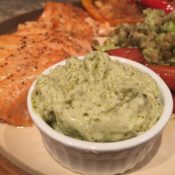 I always find it fun and exciting when inspiration for a new recipe comes my way while watching one of my many favorite food television programs. Most times, the recipes that I gravitate towards are ones that grab my attention for their simplistic ingredients and the flexibility of shaping them into my own little creations. However, a recent recipe that I saw on The Food Network's The Kitchen had me both intrigued and perplexed.
Dapper-dressed tv chef and co-host Geoffrey Zakarian was mixing up a low-calorie, low-fat, low-cholesterol, heart-healthy party dip that called for only two ingredients….pesto and Greek yogurt. While I am a huge fan of both ingredients when used separately, the mere suggestion of the two distinctive tastes coming together as one had me stumped. Co-host Sunny Anderson's reaction seemed just as confused as mine, but she quickly agreed that the combined ingredients made for a great, tasty dip. There was no turning back for me at this point.
Yogurt Pesto Dip: Take 1
The ingredients, as I mentioned earlier, are very simple: 1 cup plain Greek yogurt and 1/4 cup pesto (store bought is fine, home made is even better), with a bit of Kosher salt and fresh ground black pepper for taste. Geoffrey's suggestion was to use full fat Greek yogurt. I understand that the full fat variety would offer more texture and richness to the recipe, however finding a single serving cup of full fat Greek yogurt can be a challenge. Usually you would have to buy the full fat plain variety in a large quart size container. Whenever I eat Greek yogurt, I opt for the fat-free variety. To avoid having a container of leftover full fat Greek yogurt on hand, I decided to give the recipe a try by using the fat-free variety. The dip was very good. The balance of the zesty pesto and creaminess of the yogurt made for a nice, refreshingly tasty dip with a tart zip to it. But, as predicted, the texture was a bit thin. Adding some olive oil for additional flavor only made the texture even thinner.
Yogurt Pesto Dip: Take 2
Still not wanting to give in to the purchase of a full fat container, I decided to give the recipe a try with a 7-oz single serving container of 2% Greek yogurt. There was definitely a difference in texture. Much thicker and creamier, and again with the addition of a drizzle of olive oil and some Kosher salt and fresh ground black pepper…mmmm mmmm, good!!!
What I really like about this dip is its versatility. Not only are there lots of health benefits to it – the fresh herbs and healthy olive oil benefits in the pesto, and the proteins, calcium and probiotics found in the yogurt – there are also a number of ways that you can serve the dip. Sure, it serves well with chips and fresh cut vegetables. But it also worked amazingly well with baked potatoes, chicken and salmon. I'm sure it would even complement a nice steak…I just haven't gotten to that yet.
So, if you are looking for a recommendation for a versatile, tasty and healthy dip…and if you are a fan of pesto and Greek yogurt…this is the one you have to try!
Yogurt Pesto Dip
Adapted from The Kitchen's Yogurt Pesto Dip recipe
1 7-oz single serving container of 2% plain Greek yogurt
1/4 cup pesto (store bought or home made)
Kosher salt and fresh ground black pepper
1 tablespoon olive oil
Add the yogurt and pesto to a medium bowl and stir until fully combined. Drizzle in the olive oil. Add the salt and pepper to taste. Stir and serve.