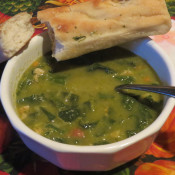 The winter chill is starting to settle in, which makes it a perfect time to start thinking about hearty soups and stews. As the season's first big freeze rolled in last weekend, I took advantage of the time spent indoors to put together a delicious creamy white bean soup. Along with some sauteed leeks, carrots and celery, I also added to the mix two of my favorite white bean counterparts – swiss chard and pancetta. If you are looking for a pure vegetable soup, you can omit the pancetta. While the pancetta gives the soup a beautifully added taste and texture, I won't hold it against you if you decide to go without it…but if you give the pancetta a try, I guarantee you'll love it!
Creamy White Bean and Leek Soup with Swiss Chard and Pancetta
2 tablespoons extra virgin olive oil
4 large leeks, white and light green parts only, cleaned and sliced
4 garlic cloves, minced
32 oz vegetable broth
4 oz pancetta, diced
2 medium carrots, sliced thin
2 ribs celery, chopped
1 15 oz can cannelini beans, drained
1 bunch green swiss chard, choppped
salt and pepper to taste
In a large, heavy soup pot heat 1 tbspn oil over medium heat. Add the leeks and a pinch of salt, stir to evenly coat the leeks. Cook and stir for about 5 minutes, or until the leeks are tender. Add the garlic, stir. Cook for about a minute, or until the garlic becomes fragrant. Add the broth, bring to a boil and reduce heat. Add the beans, stir. Simmer for 15-20 minutes.
In a separate pan, heat the remaining tbspn oil. Add the carrots and celery, cook for 5 minutes until vegetables are crisp-tender. Add the pancetta,stir. Sauté until pancetta is cooked, and the fat is rendered. Drain excess oil from pan, set pancetta, carrots and celery aside.
Next, you'll want to purée the soup with an immersion blender, or on slow speed in batches in a blender, taking care to remove the lid or take out the center insert and to cover with a towel to avoid hot splashes. Return to the pot, heat through, and add pepper to taste. Because of the saltiness from the pancetta, you won't need to add any extra salt. Add the celery, carrots and pancetta to the soup, stir together. Add the swiss chard, stir. Cover and simmer on medium-low for about 10 minutes.
Serve with crusty bread and enjoy!