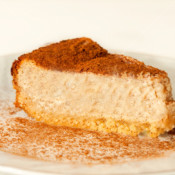 My Mom's cheesecake has been part of our family's Easter tradition for as long as I could remember. Along with peanut butter eggs, chocolate bunnies and a marathon viewing of "The Ten Commandments", Mom's cheesecake is a seasonal must. Where's your Moses now?
It wasn't just the eating of the cheesecake that I looked forward to each year. It was the routine involved around the cheesecake that made it so special. My brother and I would help her make the cheesecakes on Holy Thursday. On Good Friday, we would help her slice and divide the cakes, and neatly wrap the portions in aluminum foil. On Holy Saturday,  we would go along with my Dad to make the family deliveries, so that her cheesecake could be enjoyed on Easter Sunday. To this day, my Mom still loves to bake and share her cheesecake, and everyone looks forward to receiving a hearty piece tightly wrapped in foil.
For this year's Easter post, I am very proud and honored to share with you my Mom's recipe. This isn't a traditional ricotta cheesecake. It's made with cottage cheese, so it has more of a creamy taste and texture. Also unlike traditional ricotta cheesecake, this version absolutely stands up on its own with no additional fruit or chocolate toppings needed (not that I mind that on traditional cheesecake). Just a quick dusting of cinnamon, and you are as good as gold.
Wishing you and yours a very Happy and Blessed Easter Season!
Mom's Cheesecake
Crust:
1/2 cup shortening
1 egg
1/2 tspn baking powder
1 cup flour
3 tbspn sugar
Mix ingredients together. Press the crust mixture into a greased and floured 8 inch square pan.
Filling:
8 oz. cream cheese
8 oz. cottage cheese
2 eggs
4 tbspn flour
3/4 cup sugar
1-1/2 tspn vanilla extract
2 cups milk
In a blender or mixer, mix ingredients together well. Pour into crust and sprinkle with cinnamon. Bake at 350˚ for 45-50 minutes.