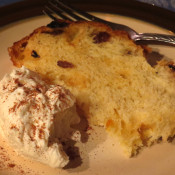 The Christmas season in an Italian household would not be complete without having a loaf of panettone on hand. Whether it was given as a gift or purchased as a personal holiday indulgence, the cylindrical loaf of sweet Italian bread, loaded with dried fruits and raisins, is a seasonal treat that is as unique and enjoyable as its decorative cardboard packaging. There are a number of ways to enjoy panettone. Sliced fresh out of the box or lightly toasted with a pat of butter are both favorites of mine. There are also a number of trendy recipes popping up these days, such as panettone bread pudding and panettone French toast… and each one makes my mouth water just thinking about them.
Just last week, after putting up our Christmas tree, I had planned to serve up a panettone-inspired dessert. Not having enough time to assemble a bread pudding, I decided to go a simple yet elegant route. Knowing that the sweet taste of the bread would work well with the creaminess of mascarpone cheese, I decided to put together a quick mascarpone whipped cream. To add a little extra flavor to the cream, I simmered some amaretto to cook off the alcohol (to keep it kid-friendly), and folded the amaretto syrup into the whipped cream. I served it with slightly toasted panettone, and the combination was spectacular. The sweet, flavorful whipped cream served along side the toasted sweet bread made for a terrific, quick and easy holiday-inspired dessert. Be sure to keep this one in mind for your holiday get-togethers….and you can look forward to left-overs for breakfast the following day!
Toasted Panettone with Amaretto-Mascarpone Whipped Cream
1/2 cup mascarpone cheese
1/4 cup heavy whipping cream
2 tbspn sugar
1 tspn vanilla
1/4 cup amaretto
1 loaf panettone bread, sliced and lightly toasted
(using a toaster oven is preferred…if you don't have a toaster oven, you can place the slices on a baking sheet and bake for about 10 minutes at 350˚)
Simmer the amaretto over medium heat in a sauce pan for about 5-7 minutes, making sure that the liquid doesn't evaporate. You will be able to smell the alcohol burning off (be careful when doing this, the smell of the simmering alcohol will be very strong). Once the alcohol is cooked off, set aside to cool. The liquid will thicken a bit to a light syrupy consistency.
Place the mascarpone cheese, cream, sugar, vanilla and amaretto into a medium bowl and beat with an electric mixer until the cream thickens and is smooth.
When the panettone is toasted, place a slice on a plate and add a dollop of the whipped cream on the side. Lightly sprinkle the whipped cream with cinnamon. Serve and enjoy!