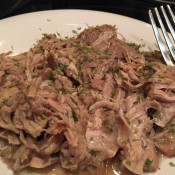 Cooking a pork shoulder in a Crock-Pot or a slow cooker is a popular and easy method used for making pulled pork. While my personal favorite method is to slow cook it on the grill (you can find my recipe for grilled pulled pork by clicking here), I have tried a few different versions in the Crock-Pot as well. This version that I'm sharing with you today is my favorite Crock-Pot version. The pork shoulder gets rubbed down with a mixture of garlic powder, oregano, red pepper flakes and kosher salt prior to cooking, so barbecue sauce is not needed. Instead, I simply add two jars of pork gravy, which makes for a juicy, tender and delicious pot of pulled pork!
Crock-Pot Pulled Pork
1 large Vidalia onion, cut into 1/2-inch slices
1 (5- to 6-lb.) boneless pork shoulder roast
1 tablespoon garlic powder
1 tablespoon oregano
1/2 teaspoon crushed red pepper
1 teaspoon kosher salt
1 (10 1/2-oz.) can condensed chicken broth
2 12-oz jars pork gravy
1-2 tablespoons olive oil
Lightly coat the bottom of a 6-qt Crock-Pot with olive oil. Make 1-2″ deep slits around various parts of the pork shoulder. Rub the garlic powder, oregano, kosher salt and crushed red pepper all over the pork shoulder. Be sure to get the spices into the slits as well. Place onions in the pot, then place roast on top of onions. Pour broth over roast. Cover and cook (HIGH 6 to 7 hours, or LOW 8 to 10 hours) or until meat shreds easily with a fork.
Carefully transfer the pork to a cutting board. Remove and discard onions from the broth (you can reserve the onions to use as a topping, if you like). Add the two jars of pork gravy to the broth in the pot. Let the pork cool for 10 minutes, then shred with 2 forks, removing any large pieces of fat. Add the shredded pork back to the pot. Serve and enjoy!