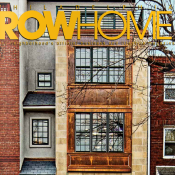 I am very proud and excited to announce that two recipes from my food blog (the Baked Pepper Shooters and Kendra Thornton's D.I.Y. Pomegranate Mojitos) will be appearing in the Spring 2013 issue of Philadelphia RowHome Magazine. Led by the dynamic duo sister team of Dorette Rota Jackson and Dawn Rhoades, Rowhome has been featuring the lifestyles and unique interests of South Philadelphia in their acclaimed magazine since 2004. I had the pleasure of working with their team in the past as a freelance graphic designer, and both Dorette and Dawn have been two of my biggest supporters and followers of this food blog since day one. Having my recipes appear in their magazine is a very exciting opportunity for me, knowing that I now have a new outlet to reach out to the families, friends and neighbors who I grew up with…the very same people who are the readers of Rowhome.
You can check out the Rowhome website, including their new Spring 2013 edition, by clicking on the links below. The link to Rowhome can also be found under the Recommended Websites section of this blog. Please be sure to drop Dorette and Dawn a message!
Click here for the Rowhome Magazine website.
Click here for the Spring 2013 issue, featuring two recipes from Cucina Domenico.
Thank you again, Dorette and Dawn, for all of your support and encouragement!