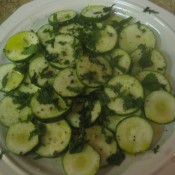 This week, health and wellness expert Joe Sammartino shares with us an incredibly simple recipe for zucchini squash. By using just a handful of everyday ingredients, the end result is a delicious and fresh-tasting zucchini salad that is packed with lots of healthy benefits. I have tried this dish and have to agree with Joe…it is unbelievably tasty! You can take it a few steps further than the recipe below by adding crushed red pepper for spice, or fresh shaved parmesan for a beautiful accent. You can also substitute lemon or lime juice for the red wine vinegar if you wish. Try it first as is, then adjust to your liking. If you like zucchini, you'll love this dish!
ZUCCHINI CARPACCIO
Submitted by Joe Sammartino
Here is something you can do to spice up some summer squash First off it is high in vitamins and minerals. It's high in vitamin A (for eye site), vitamin C (for tissue growth and repair), Riboflavin (for red blood cell production), and Manganese (for immune system). Just some nutrition info!!
Ingredients:
3 zucchini squash
2 tbspn olive oil
1 tbson red wine vinegar
salt and pepper to taste
2 tbspn chopped fresh mint
Directions:
Take a serrated knife to thinly slice 3 zucchini lengthwise. Arrange slices on a salad plate; drizzle on 2 tablespoons of olive oil and 1 tablespoon red-wine vinegar, and add salt and pepper to your taste. Sprinkle with 2 tablespoons chopped fresh mint. Let the slices marinate about 20 min at room temp before serving.
This will make 4 servings.
I have had Zucchini so many ways but, this was tasty.