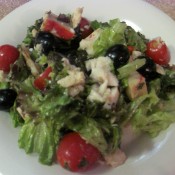 After spending the entire Fourth of July holiday weekend at the grill cooking up all kinds of meats, it was time to get back to some healthier eating. I picked up some tilapia and some crabmeat, but wanted to do something fun and different with it. I decided to add it to a fresh-tossed salad along with a home made lime vinaigrette dressing. Worked perfectly! The light and flavorful fish complemented the fresh-tossed red leaf lettuce, tomatoes, and olives, and the lime vinaigrette added the perfect summer zing.
Use this recipe as a basic template, and change it up to your liking. Not a fan of tilapia or crabmeat? Try some fresh cooked salmon. Not a fish fan? Go with chicken! Is romaine your favorite lettuce? Go for it! Looking to make it more of a meal? Fill a pita or a wrap with the salad!
Just stick with the lime vinaigrette….trust me.
SUMMER SALAD WITH LIME VINAIGRETTE DRESSING
adjust ingredients and amount to your liking 
1 head of romaine or red leaf lettuce, chopped
black olives
cherry tomatoes
fresh chopped red onion
Parmesan crusted tilapia (see recipe below)
1 can lump crab meat
Combine all  ingredients. Top with Lime Vinaigrette Dressing (recipe below), and a dusting of parmesan cheese.
Parmesan Crusted Tilapia
Lightly coat two pieces of tilapia with olive oil. Lightly coat each side with salt, pepper and parmesan cheese. Broil in oven until flaky.
Lime Vinaigrette Dressing
2 tablespoons fresh lime juice
1 garlic clove, minced
1/2 teaspoon sugar
1/2 teaspoon kosher salt
1/8 teaspoon ground coriander
2 tablespoons extra-virgin olive oil
1 tablespoon chopped fresh cilantro
Stir all ingredients together.