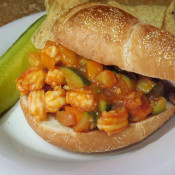 I was inspired to put this dish together a few weeks back when I saw Rick Moonen's Catfish Sloppy Joe sandwich featured on The Food Network. I put a different spin on it by using my own Sloppy Joe recipe (found here), replacing the ground meat with shrimp. I also added zucchini and Old Bay to the mix for additional taste. I like to think of this sandwich as a cross between a Sloppy Joe and a Shrimp Po'Boy…a Sloppy Po'Boy, if you will. Unlike a true Po'Boy, these shrimp are not battered and fried. I also used a crusty Italian roll instead of a baguette…as long as the bread is good, there's no need to be picky as far as I'm concerned. Whatever you prefer to call it, this is definitely a hearty and tasty sandwich, easy to make, and perfect for the summer season.
Italian-style Shrimp Po'Boy Sandwiches
Makes four sandwiches
2 tablespoons olive oil
1 garlic clove, minced
1 small red or green bell pepper, coarsely chopped
½ cup chopped onion
1 zucchini, cut into 1″ cubes
1/2 lb medium raw shrimp, peeled and deveined, each piece cut into thirds
1 8-oz can tomato sauce
salt & pepper
Old Bay seasoning
Heat oil in large skillet over medium-high heat until hot. Add bell pepper, onion and garlic; cook and stir 2-3 minutes or until crisp-tender. Add the zucchini, stir together and cook for another 2-3 minutes.
Add the shrimp, stir together. Cook until all shrimp are pink.
Add the can of tomato sauce, season with salt, pepper and Old Bay seasoning  to taste.
Stir together, lower the heat to medium-low, and simmer for 10-15 minutes until sauce thickens up.
Serve in a crusty roll.