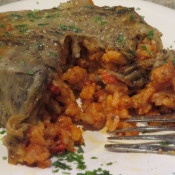 In my last post, I shared with you my updated spin on the classic sausage and peppers, with the addition of rice and seasoned tomato sauce. Today's post will put that recipe to excellent use, by using it as a stuffing inside of a timbale! For those of you not familiar with timbale, it is a dish that is prepared in a round pan (most often a spring form pan for a large size), that is lined with thin layers of eggplant, then filled with a mixture usually made up of a pasta base. The timbale is baked, then presented whole, which looks like a timbale drum, then is sliced and served. If you are a long-time reader of my food blog, you may recall my less-than-successful attempt a few years back at making timbale for my Mom's birthday (click here for The Trials of Timbale).
After a few years, I felt that it was time to once again give it a go at making timbale. Learning from my previous mistakes, I decided this time to make individual servings in ramekin dishes to help keep everything contained and not have it fall apart all over my kitchen counter. Because I was planning to use a much smaller container, I thought that it may not allow for much room for a pasta filling. This is why I opted instead for the sausage, peppers and rice filling. By adding the sauce to the filling, it would allow the ingredients to hold together as I packed it into each serving dish. Unlike my last attempt, I was also very careful not to use too much oil when preparing the eggplant slices. Adding oil to eggplant, especially when baking it, can be very deceiving. The eggplant has a tendency to soak up liquids like it were a sponge, but then it releases them as it cooks. My previous attempt failed because I used too much oil on my eggplants, which did not allow it to hold together once removed from the pan.
I started off by thinly slicing one large eggplant length-wise. I lightly sprayed a large baking sheet, and placed the slices on the sheet, lightly seasoning them with salt and pepper. I placed them in the oven at 350˚ for about 5-7 minutes…just long enough to make the slices pliable but not to where they would fall apart. Already I was off to a much better start! This left me with enough slices to line two single-serve ramekin dishes. Unlike a full size timbale, I opted to not add enough eggplant to enclose the filling. While this step is necessary with a full size, I felt that it would work fine with the smaller size, and especially with the tighter packed filling that I was planning to use. If you opt to use a pasta filling, be sure to account for more eggplant. I also suggest preparing the eggplant ahead of time and storing it in the refrigerator. The slices will stay soft enough to work with, but will not fall apart.
As I prepared my filling (you can click here for the recipe), I once again preheated the oven to 375˚. I lightly sprayed the ramekin dishes before lining them with the sliced eggplant. Although some pieces of eggplant were longer and larger than others, I put all of the slices to good use, making sure that the entire dish was lined. If you want to fully enclose you timbale, be sure to use larger slices off eggplant and have them overlap the edges of the pan, then simply fold over once the dish is filled. But again, because my filing was more compact that a pasta filling, I went with not completely enclosing the dish.
Once all of the filling was tightly packed into the ramekins, I placed them into the oven for about 30 minutes, until the outer edge of the eggplants started to brown and slightly crisp. I removed them from the oven, let them cool for a few minutes and very carefully ran a paring knife around the inner edges to separate the timbale from the dish. With a careful flip onto the dish and a few light taps, the timbale fell perfectly onto the dish. I quickly hit them with a drizzle of olive oil and some fresh herbs…and it was a thing of beauty! After years of disappointment, I had finally achieved making timbale. Not only did it look elegant, it tasted just as wonderful. It was a spectacular dish, put together with just a few simple ingredients. But a little bit of extra love took it a long way.
Regarding the filling – you can get as creative as you like. Pasta, ricotta cheese, various meats, shrimp or even vegetables would make for excellent fillings. You can also top it however you like once it is removed from the baking dish. A nice slice of mozzarella, some fresh tomatoes and basil…the options are endless!
So there you have my triumphant return to attempting timbale, and I hope it inspires you to give this creative, impressive and filling dish a try!