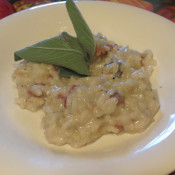 A few weeks back, I posted a review of Harpoon Pumpkin Cider (the verdict: not so good). I purchased the cider as a six-pack, so I have since been kicking around ideas on how to put the remaining bottles to good use without simply dumping it all down the drain. One of my favorite dishes that I like to prepare this time of year, particularly on a Sunday spent at home, is a nice pot of risotto featuring seasonal ingredients and flavors. I've already put together a Pumpkin Amaretto Risotto, which is one of my favorite recipes on my blog. But this gave me an idea on another seasonal favorite of mine. Since the main ingredient of cider is apples, I though it would be nice to play up on the apple angle. From there, I started thinking of other ingredients that would work well with apples. I immediately thought of  a harvest salad, and quickly came up with smoked bacon, walnuts and gorgonzola cheese. After a bit of research, I found a risotto recipe using apples, bacon and bleu cheese, and white wine and apple cider vinegar as the liquid base. With just a few minor adjustments, particularly using the cider in place of the wine and vinegar, and throwing in some allspice for an extra kick, I put together a dish that I was really happy with. The risotto was very filling and full of wonderful autumn flavors and texture. It's a perfect recipe for this time of year. If you are a fan of risotto and the fall season, and if you have about 45 minutes of uninterrupted kitchen time available to you, give this one a try. If you don't have apple cider on hand, I'm sure that the white wine and apple cider vinegar combination would work just as well.
Apple Bacon Harvest Risotto
inspired by a recipe found at betterrecipes.com
4 Strips Thick-cut Bacon, cut into ½" slivers
1 tbsp Olive Oil
2 Golden Delicious Apples, peeled and diced
2 Shallots, peeled and minced
4 cups Low-sodium Chicken Stock
1½ cups Arborio Rice
1 12 oz bottle Hard Apple Cider
(you can substitute cider with 1/2 cup Dry White Wine + 2 Tbsp Apple Cider Vinegar)
¾ tsp Kosher Salt, divided
½ tsp Fresh Ground Black Pepper
1 tbsp Thinly Sliced Fresh Sage Plus a Few Leaves, for garnish
3.5 oz Gorgonzola Cheese, crumbled
1 tbspn finely chopped Walnuts
Dash of Allspice (to taste)
Place the bacon in a large saute pan and cook over medium heat until golden, rendering most of the fat. Use a slotted spoon to remove the bacon to a paper towel and drain all but one tablespoon of fat from the pan. Add the olive oil to the bacon fat in the pan and saute the shallots and apples over medium-high heat until softened and browned in spots, 5-6 minutes. Season mixture with 1/4 teaspoon of salt. Meanwhile, heat the stock over low heat in a small saucepan until it comes to a simmer, then adjust heat to maintain a low simmer.
Add the rice to the saute pan with the apples and shallots and cook, stirring constantly, 2-3 minutes, until rice becomes translucent at edges. Add the cider (or wine and vinegar) then cook, stirring constantly, until absorbed by the rice. Season mixture with a second 1/4 teaspoon of salt. Add a ladle of simmering stock and cook, stirring frequently, until absorbed. Repeat additions of stock, adjusting the heat to keep the risotto simmering but not at a raging boil, until rice is just tender, about 20 minutes. Season with pepper, then remove from heat, add sage, reserved bacon, the final 1/4 teaspoon salt, goat cheese, walnuts and allspice, then cover for 2-3 minutes. Give a final stir and serve immediately, garnished with sage leaves.