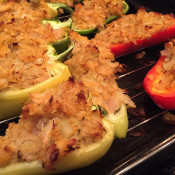 When I first started preparing this dish, my intentions were to follow an old recipe of mine, which included mixing diced peppers with the remaining ingredients to make a warm crab salad. I've done this before and served it with crackers or over pasta. But the home-grown peppers that I had on hand looked so damn pretty, that I decided instead to stuff and bake the peppers. It was a delicious choice to make! Either method would work well, but if you have a handful of peppers ready to be used, give this stuffed version a try. It is a hearty and tasty dish for sure!
Note – the peppers that I used were mini bells, mini gypsy and sweet reds. You can use whatever variety of pepper you prefer.
Crab-stuffed Bell Peppers
16 oz canned crab claw meat
2 tbspn butter
1 large shallot, chopped
juice of 1 lemon
2 tbspn white wine
6 oz chopped artichoke hearts
1 cup breadcrumbs
olive oil
3 large or 5 small bell peppers, cut in half lengthwise and cleaned
(if you decide to mix the diced peppers with the remaining ingredients, one large bell pepper will be all you need).
Preheat oven to 400˚. Melt butter in a large pan over medium heat. Add chopped shallot, sauté until soft.  Add crab meat, lemon juice, wine and chopped artichoke hearts. Stir. Add 1 cup breadcrumbs plus tablespoon of olive oil. Stir until breadcrumbs are fully incorporated. You can add additional olive oil if needed. Heat until warmed.
Fill each pepper half with the crab filling. Place the peppers on a baking sheet or in a baking dish. Bake for 30-35 minutes, or until peppers are tender.
Serve warm.