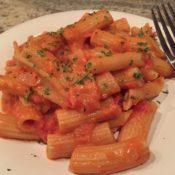 Vodka cream sauce is my favorite alternative to a traditional red pasta sauce…aka gravy! While it may be tempting to simply grab one of the jarred varieties available in your grocery store, making a home made vodka cream sauce is not all that complicated. You do need to dedicate a little bit of time to allow the flavors to marry, and allow the sauce to thicken to the perfect creamy consistency. If you are a regular follower of my food blog, you probably know by now that I focus on low-fat alternatives to rich and creamy foods as often as I can. Unfortunately, this is not one of those recipes. Butter and cream substitutes aren't going to give you a true, rich and tasty vodka cream sauce. But hey, you have to enjoy life to the fullest once in a while…why not enjoy it with a yummy pasta dish?
You may be curious as to why vodka is used in this classic recipe. From what I've learned, its purpose is to help release additional flavors from the tomatoes which are normally not released during a traditional cooking process. This is the same reason why certain recipes call for the addition of wine or other alcohols. The vodka also acts as an emulsifier. The oil from the cream would typically separate when it interacts with the acidic tomatoes. The addition of the vodka helps to prevent this from happening.
You can build on the ingredients and taste if you like. For additional spice, try adding a bit of crushed red pepper. If you are really in a creative mood, add a can of crab meat and some cooked chopped asparagus. Whatever way you choose to enjoy this recipe, I guarantee it will put a smile on your face.
Vodka Cream Sauce
Makes enough for 6-8 servings, with 1 lb of cooked pasta
Total cooking time: approximately 1 hour, 30 minutes
2 shallots, diced
1/2 cup butter
1 cup vodka
2 28-oz cans crushed tomatoes
1/2 pint heavy whipping cream
1 tbspn grated parmesan cheese
2 tbsp fresh chopped basil
*optional – 1 tspn sugar
Melt butter in a large skillet or pan over medium heat. Add shallots, sauté until soft. Add vodka, let cook for 10 minutes. Add the crushed tomatoes and one tbspn of fresh chopped basil. Stir together. Lower heat to medium-low, let simmer for 30 minutes, stirring occasionally. Add the heavy whipping cream and parmesan cheese. Stir together. Lower heat to medium-low, let simmer for another 30 minutes, stirring occasionally. Give the sauce a taste. You can add a tspn of sugar to help sweeten it up a bit. Add the second tbsp of fresh chopped basil during the last 10 minutes of cooking. Serves well with penne, rigatoni or your choice of ravioli.
To make enough sauce for a half pound of pasta, simply cut the recipe in half. However, be sure to follow the same cooking time.