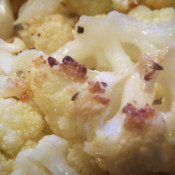 Cauliflower, in my opinion, is a vegetable that doesn't get due respect. Not that cauliflower has a bad rap…it just simply seems to be ignored. Aside from a store-bought veggie tray, cauliflower doesn't make many other appearances. Even when you do spot it on a party plate, it is usually overshadowed by the carrots, peppers, cucumbers and broccoli. As a vegetable lover, I find this to be a real shame. Cauliflower is one of the healthiest vegetables that you could enjoy. A cousin to cabbage, kale and broccoli, cauliflower is packed with nutrients and antioxidants, along with many anti-inflamitory, cardiovascular and digestive benefits.
Recently, I was introduced to a delicious cauliflower pizza, which was a white brick-oven pizza topped with sautéed cauliflower. The pizza itself was tremendous, but the cauliflower was definitely the shining star. Because I love grilling up veggies during these summer months, the pizza encouraged me to give cauliflower its due time on my grill. Many grilled cauliflower recipes that I found while doing my research had you slicing the cauliflower head into thick, steak-like wedges. While this sounded delicious, I wanted to take advantage of the softer, sautéed taste and texture. I was afraid that following the grilled wedge version would have given more of a charred taste. Enjoyable, no doubt…but again, not what I was aiming for.
What I decided to do was divide the head into individual florets, discarding the thicker stem portions. I then made a marinade by mixing some olive oil, parmesan cheese, garlic powder, and some salt and pepper (I love the taste of black pepper with cauliflower). I mixed the marinade with the cauliflower, making sure that the florets were evenly coated. I then wrapped the florets in an aluminum foil pouch and set it on my grill, over indirect heat. After about 35-40 minutes, the cauliflower was done, and cooked to my exact expectations. Perfect! The marinade made for the perfect flavor, and softened up the cauliflower just enough (cauliflower, in my opinion, is best when partially cooked, instead of fully cooked and mushy). The heat from the grill did brown the florets slightly, which gave a nice, yet subtle grilled taste. Because my grill top was already packed with other items, the only indirect area that I had available was my upper rack. Had there been more room on the grill, I would have found an area where I could have closed off one burner to avoid charring. But it's nice to know that the upper rack serves a good purpose with this dish. No doubt, cauliflower will become a regular item on my grill!
Grilled Garlic Parmesan Cauliflower
1 cauliflower head, chopped into individual florets, discarding thick stems
1/4 cup olive oil
2 tspn parmesan cheese
1/2 tspn garlic powder
salt and pepper
Preheat your grill to medium-high heat (about 400˚). Designate an indirect heating area, where the flames will not come in direct contact with the cauliflower. An upper rack works well for this. Mix the oil, parmesan cheese and garlic powder. Place the chopped cauliflower in a bowl and add the oil mixture. Stir to evenly coat the florets, adding additional oil if needed. Add some salt and pepper, stir again. Tear off a piece of aluminum foil large enough to hold the florets. Pour the florets onto the foil, then carefully  fold and wrap the foil to make a loose pouch, open side on top. Place the pouch on your indirect heating area, close the lid and let cook for 35-40 minutes, checking occasionally. When the cauliflower starts to slightly char, carefully remove from grill. Let sit for a few minutes before opening the pouch. Carefully open the pouch, avoiding getting burned but the released steam. Plate it, serve it and enjoy!