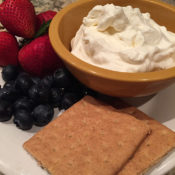 Memorial Day weekend is here once again, and it is time to start thinking about light and refreshing sweet summer recipes! Today, I'm sharing with you a super easy dessert recipe that can be used in many creative ways. We're starting off with a basic home made whipped cream. Next, we're going to build up the creamy texture by adding mascarpone cheese, which is a delicious Italian style cream cheese. To finish it off, we're adding some fresh lemon juice and lemon zest. You can use this citrusy light whipped cream as a topping for pancakes or waffles, as a dip for fresh fruit and graham crackers (you will not believe how good this tastes with fresh strawberries and blueberries), as an icing for a spongy summer cake…or let's be honest, you can even eat it on its own by the spoonful!
Lemon Mascarpone Whipped Cream
1/2 pint heavy whipping cream
1 tablespoon powdered sugar (plus extra if needed)
1 teaspoon vanilla extract
1/4 cup mascarpone cheese
1 teaspoon lemon zest
1 tablespoon lemon juice
Combine cream, powdered sugar and vanilla extract in a chilled mixing bowl. Using a hand mixer or a stand mixer, mix together until soft peaks start to form. Continue to mix, adding the mascarpone cheese a little at a time. Adding all of the mascarpone cheese at once will cause splashing. Continue to mix until stiff peaks form. Fold in the lemon zest and lemon juice. You can add additional powdered sugar if you prefer the whipped cream to be sweeter. Cover and refrigerate until ready to use.