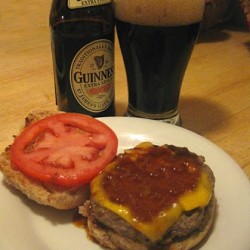 When my friend Alicia asked if I would be making something 'deliciously green' for Saint Paddy's Day, I knew that I had to step up to the plate. Since Irish food is not my forté, my first thought was to put an Italian spin on a traditional dish. Instead of ham and cabbage, I was thinking broccoli rabe and pancetta. No doubt a delicious combination (and something that I could eat any day of the year), but I wanted it to be a bit more authentic for the occasion. I decided to go back to my St. Paddy's day expertise… Guinness beer.
Like all other stout beers, Guinness can be put to many uses, far beyond the day's toasting beverage of choice. Bernice Torregrossa, of The Galveston County Daily News, gives a perfect description of the many uses of stouts:  "Stout beer, made with darkly roasted barley and malt, is a versatile cooking ingredient. Its fermentation makes it a substitute for yeast in breads, the full-bodied taste adds depth to stews and soups, and the slightly bitter finish intensifies the flavor of chocolate in desserts."
With this in mind, I started to search out Guinness recipes on the web, and with just a few clicks came across huggingthecoast.com, which offers 22 Guinness recipes! The first recipe listed, Gourmet Guinness Burgers with Guinness Barbecue Sauce (courtesy of inspiredtaste.net), jumped out at me immediately. Burgers, which are a standard pub item, married with the flavor of Guinness… perfect!
I followed the recipe, step by step. No doubt, this is a great dish to celebrate the day! The richness of the beer really plays well with the beef, and gives the perfect kick to the sauce. It's the sauce that really blew me away with this burger. Even cooked at medium-well, this was one of the juiciest burgers that I've had in a long time. I would almost put this in a salisbury steak category, served on a toasty bun. … Continue Reading