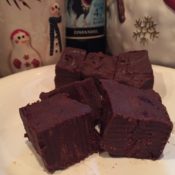 I once had a friend tell me that wine plus dark chocolate equals heaven. Being a fan of both, I have no problem agreeing with this statement. There is something magical about the pairing of a crisp, fruity, complex wine with the creamy, lush texture of dark chocolate. And according to an interesting article in the Huffington Post, there are also health benefits to this decadent combination!
If you are looking for some last minute ideas for home made goodie gifts for the holidays, and if your family and friends are fans of wine and chocolate, give this fudge recipe a try. The recipe is very simple and doesn't take much time to make, yet your family and friends will be impressed! You can add nuts or maraschino cherries for additional texture and flavor. Just be sure to keep this sweet treat out of the children's reach, because the alcohol does not fully cook down. To make a kid-friendly version, simply eliminate the wine.
Cheers to you and yours!
Dark Chocolate and Zinfandel Fudge
1 20-oz package of dark chocolate morsels
7-oz sweetened condensed milk (1/2 can)
1/2 cup Red Zinfandel
Place all ingredients in a sauce pan over medium-low heat. Stir often until the chocolate morsels are almost melted. Remove from heat, continue to stir until completely melted. Carefully pour the batter into an 8″x8″ pan lined with parchment paper and lightly sprayed. Smooth out the batter to evenly fill the tray. Let cool in the fridge until the fudge sets completely. Cut into small squares to share.
Be sure to wrap the fudge in wax paper, then store the fudge in an air-tight package or container. The fudge will have longer shelf life if stored in the fridge, just be sure to let it return to room temperature before serving.