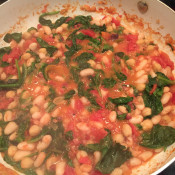 With the cold winter weather rolling in, now's the time to start planning some good, old fashioned, stick-to-your-ribs kind of meals. The dish that I'm sharing with you today is one of my all time favorites. The simple, yet classic ingredients make for a wonderfully tasty and hearty comfort dish. Old-school Italian soul food at its best!
Pancetta and Beans with Spinach
4 oz pancetta, diced
1 small onion, diced
1 14.5 oz stewed tomatoes, drained
1 15 oz can cannellini or garbanzo beans (I use a mixture of both)
1 bag spinach
olive oil (if needed)
1/4 to 1/2 cup chicken broth (if needed)
salt and pepper
Sauté pancetta in a large pan over medium heat until crispy and fat is rendered, about 7-10 minutes. Remove pancetta and set aside.
Add onion to rendered fat in the pan, sauté until soft and translucent (you can add some olive oil if needed). Add tomatoes and beans, stir together, cook until heated.
Add the spinach, stir together. You can add 1/4 to 1/2 cup of chick broth if needed, to help cook down the spinach.
Once the spinach is cooked down, add the pancetta back to the pan. Stir together, season with salt and pepper to taste.
Serve and enjoy with a loaf of crispy Italian bread!