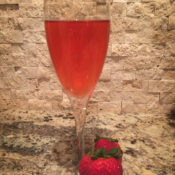 It's that time of year again, to start thinking about the summertime cocktails that you will be preparing to serve at your cookouts, sip on while down the shore or simply enjoy while on your back porch. Today, I'm sharing with you my recipe for an incredibly easy to make – and even easier to drink – strawberry vanilla infused vodka.
Infusing certain fruits with vodka, especially citrus fruits, can take a few weeks up to a few months to really extract the flavor to its fullest. However, the seasonal plump and juicy strawberries that are now available this time of year need only about 5 to 7 days to release their sweet juices when infused with vodka. There is no need to use a higher percentage alcohol base for this recipe. Basic 80 proof vodka will do just fine.
The trick, of course, is to use good quality vodka. You want this to be an enjoyable sipping drink. And let's be honest…you don't want to be serving cheap booze to your guests either. You have a couple of different directions that you can go with this recipe, depending on how involved you want to get. The easiest choice is to simply use a bottle of vanilla flavored vodka. There are a few brands available, but again, be sure to pick a decent brand. Don't go cheap! If you want to take more of a purist approach, you can add 2-3 vanilla beans to unflavored vodka to make your own vanilla vodka. The process will take a bit longer, but will make for really tasty results…and it sounds impressive too!
Once the infusion process is done, you can either serve as is (over ice, as a mixer, etc.), or you can add simple syrup to it and serve it as a liqueur. You can add the simple syrup either per serving, or mix it with the entire batch. Just be sure to allow an extra day or so for the flavors to come together if you are adding the syrup to the entire batch.
However you decide to serve your strawberry vanilla vodka, be sure to have a lot of it on hand. I promise you it will be enjoyed!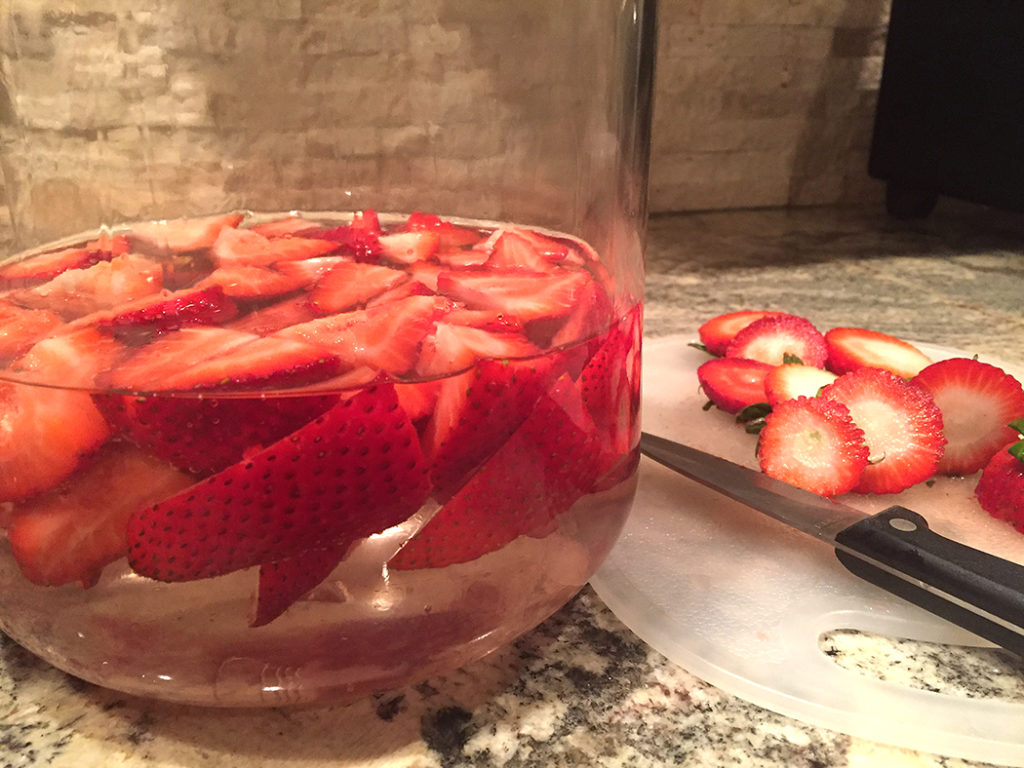 Strawberry Vanilla Infused Vodka
1 pound fresh strawberries, cut into quarters, stems removed and discarded,
1 750-ml bottle good quality vanilla vodka*
Place the strawberries into a large air-tight container. Pour the vodka over the strawberries, seal the container closed. Store in a dark, cool place for 5-7 days. Give the jar a light shaking once a day. The strawberries will lose their color once the flavor is extracted, and the vodka will turn a reddish-pink color. Strain and discard the strawberries from the vodka.
You can serve as is, or you can add simple syrup to sweeten it up.
Simple Syrup Recipe
1 cup water
1 cup sugar
(you can increase or reduce the amount needed by using the 1:1 ratio )
In a medium saucepan combine sugar and water. Bring to a boil, then let simmer, stirring until sugar has dissolved. Allow to cool. Combine with the infused vodka. If you are adding the simple syrup to the entire batch of infused vodka, allow it to sit for an extra day once mixed, so that the flavors come together.
*Infusing Vodka with Vanilla Beans
To make your own vanilla vodka, you will want to start with a good quality unflavored vodka. Add 2-3 vanilla beans, split length-wise but not scraped, to the vodka. Let the beans sit in the vodka for at least 7-14 days (the longer it sits, the stronger the flavor). Remove and discard beans once done. Then follow the steps above to infuse the strawberries with your vanilla vodka.