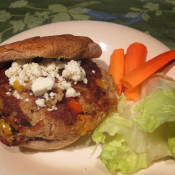 Looking for a new way to jazz up a plain old can of tuna? Mayonnaise-based salads, grilled melts and boxed 'helpers' just not cutting it for you anymore? Using one 5-oz can of oil-based tuna and some fresh chopped peppers and onions, you can put together a quick single-serving tuna burger. I put this recipe together one night recently, and within 10 minutes, I was chomping down on a delicious new variation on a classic sandwich! Normally, I would prefer to use canned tuna in water. For this recipe, I went with Cento canned tuna (tonno) in oil. The oil – even after straining the excess from the can – helps keep the ingredients packed together, so there is no need for an egg for binding. Cento brand has a distinct, flavorful taste that I enjoy, but you can use any brand of oil-based tuna. I'm not sure at this time if these burgers would hold up well on an open flame…but I'll be sure to let you know as the weather gets warmer!
Single Serve Italian Tuna Burger
1 5-oz can oil-based tuna
2 tbspn chopped red bell pepper
1 tbspn chopped onion
1/4 cup breadcrumbs
1 tbspn olive oil
1 tbspn butter
crumbled feta for topping
Strain and discard excess oil from tuna can. Mix tuna, peppers, onion, and breadcrumbs in a bowl. Shape the mixture into a tight ball, then gently flatten to a burger shape. Try not to overwork it, otherwise the burger will fall apart.
Heat oil and butter in a frying pan. Cook the burger 3-5 minutes on each side, carefully flipping. The combination of butter and oil will help keep the burger from falling apart. Serve on a toasted bun topped with crumbled feta.