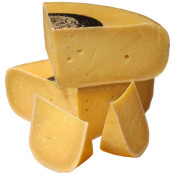 Another year, another round of New Year resolutions! Since starting this blog back in 2008, most of my resolutions have been food related (learning how to make home made pasta, new challenges with Una Mamma Italiana), and because of this my resolutions have been fun and enjoyable to partake in! This year, I have my cousin Jenny to thank for setting me up with my 2013 food-related resolution. Her Christmas gift to me was a fantastic book called Artisan Cheese Making at Home. The book is very well put together and is a lot of fun to look at – the pictures are absolutely mouth-watering. Everything from ricotta and mascarpone, to créme fraiche and greek yogurt, to cocoa rubbed jack cheese, ale-washed trappist cheese and tips on how to make smoked mozzarella are covered in appetizing detail. Obviously, some of these cheeses can't even be considered just yet, not only for my lack of skills but for the lack of space and set-up in my basement. But that's not going to stop me from reading and absorbing this book, attempting what recipes I can handle and sharing with you my journey in cheese making. If anything, I'm looking forward to trying out some of the suggested recipes included in the book…even if I have to sneak over to the 9th Street Market to get my hands on some good quality cheese, wrapped and ready to go.
I also have some other fun ideas in mind for the blog this year. Keep an eye out over the next few months for new recipes featuring:
• risotto
• soups
• pot pies
• pasta dishes
• my kids' take on panzarotti vs. calzone
Plus…I'll be joining my friend Carl for a very special home brewing post!
I'll also be chasing down Una Mamma Italiana for another food challenge or two…and hopefully some other surprise visits from other special contributors.
Thanks again for visiting…here's to a great and appetizing 2013!