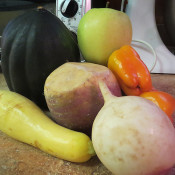 I always enjoy cooking with vegetables, and ratatouille is one of my favorite dishes. With Thanksgiving just around the corner, I came up with a dish that replaces most of the traditional ratatouille veggies (eggplant, tomatoes, summer squash and seasonings) with some of my favorite root vegetables (rutabaga, turnips, acorn squash, along with traditional yellow squash and bell pepper), autumn spices and a Golden Delicious apple for a bit of sweetness. I guess you can even call this dish "rootatouille!" All kidding aside, this is a great recipe to prepare along with your Thanksgiving dinner.
You will need to put in a little bit of effort ahead of time to peel and chop the vegetables. A few minutes in the microwave will help soften the acorn squash for easy cutting, and you'll want to peel and slice the apple last minute to avoid it from browning. Once the prep work is done, all you're looking at is 10-15 minutes of sautéing the veggies, and then the dish is ready to serve!
Root Vegetable Ratatouille
1 rutabaga, peeled and diced
1 turnip, peeled and diced
1 yellow squash, diced (you can use green zucchini squash if you prefer)
1 red bell pepper, diced
1 acorn squash (prep directions below)
1 Golden Delicious apple, peeled and diced (prep the apple just before you are ready to add to remaining ingredients to avoid browning)
2 tbspn olive oil
2 tbspn brown sugar
1/2 tspn cinnamon
1/4 tsp ginger
2 tbspn maple syrup (regular pancake syrup will also work)
salt and pepper to taste
Start by cooking the acorn squash whole in the microwave on high for 5 minutes. Carefully remove (it will be hot), let sit until cooled. Once cooled, cut in half, remove pulp and seeds. Remove skin, cut the squash into small chunks, set aside.
In a large skillet, heat olive oil over medium heat. Add the rutabaga, stir until evenly coated, cook for about 5 minutes, until it starts to soften and the pale color starts to turn into a golden brown. Next, add the turnip, pepper and yellow (or zucchini) squash. Stir together and cook for another 5 minutes, until all veggies start to soften. At this point, you'll want to peel and dice the apple.
Next, add the apple and acorn squash to the mix, stir together. Add the brown sugar, cinnamon, ginger and syrup, mix together. Lower the heat, let simmer, stirring occasionally until all veggies are softened to your liking. If the mixture looks like it's starting to dry up, you can add a bit of water or broth to loosen it up. Season to taste with salt and pepper.
Serve and enjoy!