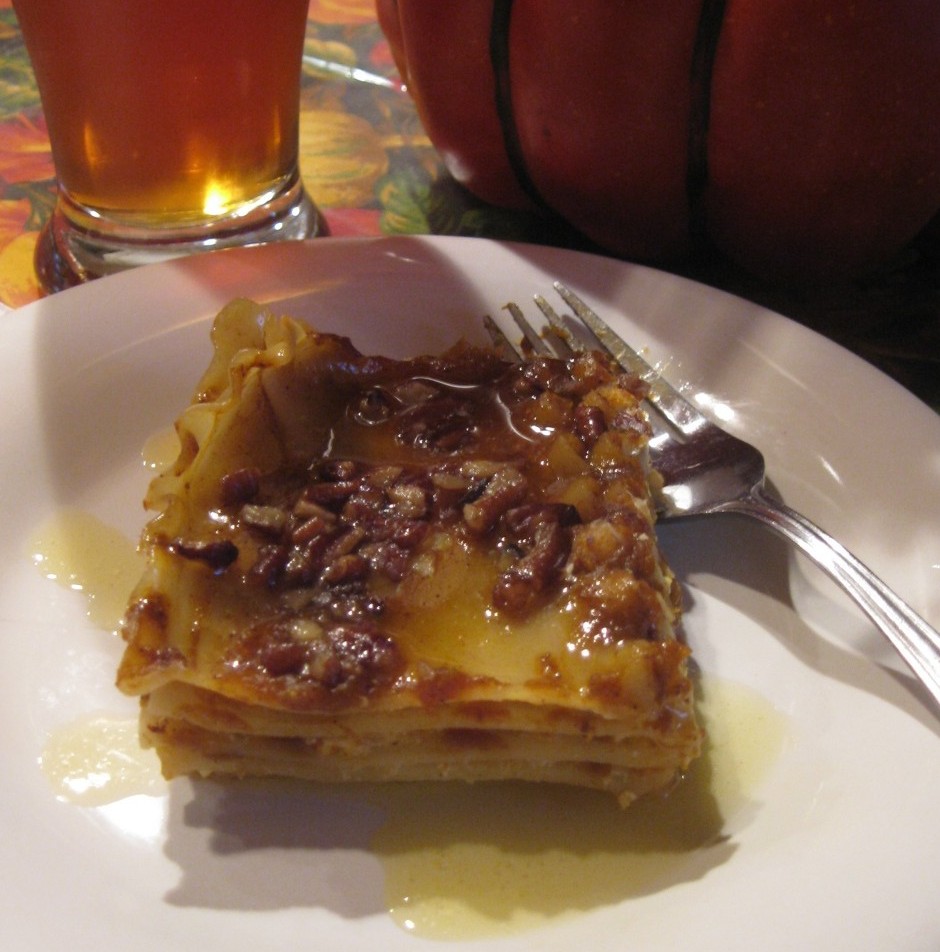 I've been planning to make a pumpkin lasagna for a while now, and have spent a good amount of time researching different ways of how to do so. I've come across a lot of unique recipes – most that simply mix the pumpkin and spices into the ricotta cheese. Lasagna, in my opinion, is a very elegant pasta dish, and should be treated as such when assembling. I really wanted this dish to stand out, and while the idea of mixing the pumpkin and ricotta was on the right track, it just seemed too one-dimensional. Too simple.
My next thought was 'what kind of sauce do I add to this to give more depth and complexity.' Believe it or not, most of the recipes that I found used a red sauce (some of the recipes were even written by 'celebrity' tv chefs). I don't know if the red sauce really would work, but it was definitely not the direction that I wanted to go. I also thought about a cream sauce, but was afraid that it would make the lasagna too heavy and just plain-old sloppy. Again, lasagna should be an elegant dish…runny, sloppy lasagna is definitely not what I wanted.
What I finally decided on was to use the pumpkin as the sauce. By doing this, it would help separate the pumpkin from the cheese, while at the same time creating the exact depth and texture that I wanted in this lasagna. The pumpkin sauce would also help keep the lasagna noodles from drying out.
I used all of the usual pumpkin spices to make the sauce (allspice, cinnamon, nutmeg, ginger, brown sugar) along with some maple syrup to thicken it up a bit. By following the traditional lasagna layer method (pasta, cheese, sauce, repeat), the assembly was perfect. I topped it off with some toasted pecans for a little extra crunch.
Because there is a good amount of sweet spices included, I used thin layers of pumpkin and cheese so that the pasta would still stand out. I also made a brown butter sage sauce to drizzle on top of the individual servings to add a bit of savory. Although the butter sage sauce wasn't really necessary (the pumpkin spices were perfectly balanced), it added a beautiful balance.
I was very happy with this dish…it was the perfect fall taste that I was hoping for. I hope you enjoy it!
PUMPKIN LASAGNA
Adapted from a recipe on Life Currents
1 (15 ounce) can pumpkin puree
1 teaspoon salt
1/4 teaspoon freshly ground black pepper
1/2 teaspoon ground nutmeg
1 teaspoon ground cinnamon
1/8 teaspoon ground ginger
3 tablespoons light brown sugar
1 tablespoon maple syrup
1 box uncooked lasagna shells (you will need 12 shells for this)
1 (15-oz) container ricotta cheese
8 ounces shredded mozzarella
1/2 cup finely shredded Parmesan cheese
1/2 cup pecan pieces, lightly toasted in a pan with 1 tspn melted butter
Brown Butter Sage Sauce
1 stick butter
10 fresh sage leaves
Prepare the lasagna shells as instructed on the box (you can do this ahead of time), place aside to cool and dry.
Preheat oven to 400º. In a mixing bowl, combine the pumpkin, salt, pepper, nutmeg, cinnamon, ginger, brown sugar and syrup. Set aside. In a separate bowl, mix the ricotta, mozzarella and parmesan cheeses.
Lightly coat a 13×9 baking dish with cooking spray. Add a light coating of the pumpkin mixture to the bottom of the dish. Place three pasta strips into the dish, side by side. Top each strip of pasta with about a tablespoon of the cheese mixture, spread it out on the pasta. Add a thin layer of the pumpkin sauce, spread it out evenly. Repeat these steps (pasta, cheese, pumpkin) until you finish up with the three final strips of pasta. Top with the remaining pumpkin mixture, then top with the toasted pecans. Cover with aluminum foil, bake in oven for 45 minutes. Remove from oven, keep covered and let cool for 10 minutes.
While the lasagna is cooling, melt the stick of butter in a small sauce pot, until it starts to brown. Add the sage leaves, let them simmer in the butter for 20-30 seconds. Remove and discard sage leaves. Remove butter from heat.
Slice and plate the lasagna, lightly drizzle each piece with a bit of the butter sauce.