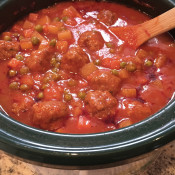 There is nothing quite as old-world or rustic as a hearty bowl of stew. To add a bit of an Italian flare to this dish, my family adds meatballs in place of the more traditional cubes of beef or lamb. This is a recipe that has been in my wife's family for a few generations, and we still consider it one of our favorite comfort foods. Because our schedules are always so busy these days, I've adapted this dish to work perfectly in a slow cooker. By using a pound of pre-cooked meatballs (using your favorite meatball recipe, of course), and letting the stew cook on low for at least 8 hours, you can enjoy a delicious old-world meal with minimal effort!
Crockpot Meatball Stew
4 medium potatoes, peeled and cut into cubes
1 16-oz package frozen peas and carrots
1 29-oz can tomato sauce
1 can (29 oz.) of water (use the tomato sauce can to measure)
1 beef bouillon cube
Salt and pepper to taste
(optional spices – chili powder, crushed red pepper)1-lb cooked meatballs, rolled small
Place all ingredients into a slow cooker. Cook on low temperature for at least 8 hours. Add additional seasoning to taste. Don't forget the crusty bread for dipping!
I was very honored to have this recipe featured in the January 2016 edition of the Philadelphia RowHome Magazine. The magazine version appears below. Please be sure to check out all of the greatness that my good friends at RowHome have to offer at gohomephilly.com