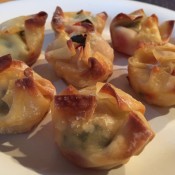 I have been using wonton and egg roll wrappers for many of my quick appetizer recipes for a few years now. I've stuffed them with everything from meatballs and cheese steak to buffalo chicken and vegetables. While the end result is always a crowd pleaser, I will admit that the actual stuffing and prepping phase could be a bit tedious. It's not complicated, but rather monotonous to spoon, fold/roll, seal and repeat.
This past weekend I found the sure-fire method for stuffing and baking wonton wrappers, which involves very little time, yet still produces an amazing snack. By using a mini muffin tray, you are able to set up, fill and seal the wrappers quickly and efficiently. For my first attempt at the mini-muffin tray method, I used the classic caprese pizza ingredients: fresh mozzarella, cherry tomatoes and fresh basil, each sliced into small pieces. After lining up the muffin tin with a wrapper in each cup, I placed a piece of mozzarella, tomato and basil in each, then folded the wrappers over, slightly pressing down on them to seal them shut. After a quick hit of cooking spray and 10 minutes in the oven, my family and I were treated to some great tasting home made appetizers.
The filling combinations for this method are endless…and I plan on experimenting and sharing the results with you along the way. Definitely be sure to give this trick a try for your next round of party appetizers. They'll be a thousand times better than the usual store-bought frozen variety, and you'll be sure to impress your guests. This is also a great recipe to get the kids involved with…especially with the stuffing and folding of the wrappers!