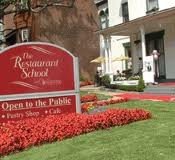 Last week, my wife and I got to experience a very unique and memorable night out on the town. We were invited to our friend Traci's birthday dinner at the prestigious Restaurant School at Walnut Hill College in Philadelphia. To say that this dinner was anything less than an unforgettable event would be a lie. Of course, being both a foodie at heart and a seasoned graphic designer by trade, supporting the arts (whether it be visual, musical or culinary) is something that I take pride in. Having the opportunity to dine in an environment almost completely operated by students was not only gratifying, but also educational…for both the staff and those of us dining that night. Having heard over the years how much of a great experience it is to dine at the Restaurant School, I was sure to pay full attention to and soak up every moment that we had at the dinner party.
Offering both Associate and Bachelor of Science degrees in Culinary Arts, Pastry Arts, Restaurant Management and Hotel Management, the Restaurant School presents students the opportunity to experience working in in a high-end restaurant right from the get-go, preparing them to take on the culinary responsibilities in some of the most elite and celebrated locations around the world. In exchange, the patrons get to enjoy five star treatment and and cutting edge menu selections influenced by some of the top chefs in the area…all prepared and served by the students themselves. The diners not only get to enjoy a delicious and creative meal, they also get to give back to the students by allowing them to perfect their craft. It's a win-win situation!
Our dinner party was exceptionally special. First off, by request of the birthday girl, this was a semi-formal event. Opportunities for my wife and I to go out to dinner without the kids are often few and far between, so being able to dress up for a night out on the town was fun. The party took place in a private dining room, which had an all-white decór and blown-glass ornaments dangling from the ceiling. The menu was made up of seven-courses, personally paired up by both Traci's husband and the Chef. The French influenced menu, including a frisée salad, lobster bisque, Scottish salmon with beluga lentils, ginger sorbet, a main course of either roasted chicken or New York strip steak, a cheese course (featuring a sheep, goat and cow's milk sample) and a miniature dessert selection were accompanied by a featured wine list that was hand selected by our sommelier.  The Pouilly Fuissé Nicolas Potel Burgundy and the Di Majo Norante Sangiovese were two of the most delicious wines I've ever tasted, and were paired beautifully with our meals.
What made this night even more exceptional and memorable was the seating arrangement for each course. There were four tables of 5 seats to accommodate all 20 of us. We each received a seating card at arrival, with our name and seven numbers on the card, ranging for 1 to 4 (for example, my card had 4-4-3-2-1-1 listed under my name) The numbers represented which table we were to sit at for each course. This was an great opportunity for all of us to mingle and speak to one another throughout the evening. Even though I did not know many of the guests at the start of the dinner, by the end of the party we had all laughed and joked together at one time or another that night. This arrangement, by the way, was not planned by the school, but rather by our hosts. It was a unique and original way for everyone to mingle and have a good time.
One of the biggest highlights for me personally was being offered a personal tour of the kitchen. Traci's husband, Scott, is on the board of directors for the school, and like myself is a foodie at heart. Being that he took time to show me around in the kitchen and giving me the chance to speak with the chef personally really was icing on the cake for me that night. Seeing the students hard at work in the kitchen while having the Chef express his gratitude while showing pride in his students was awe inspiring. Somehow I felt at home and at one with the entire staff that night.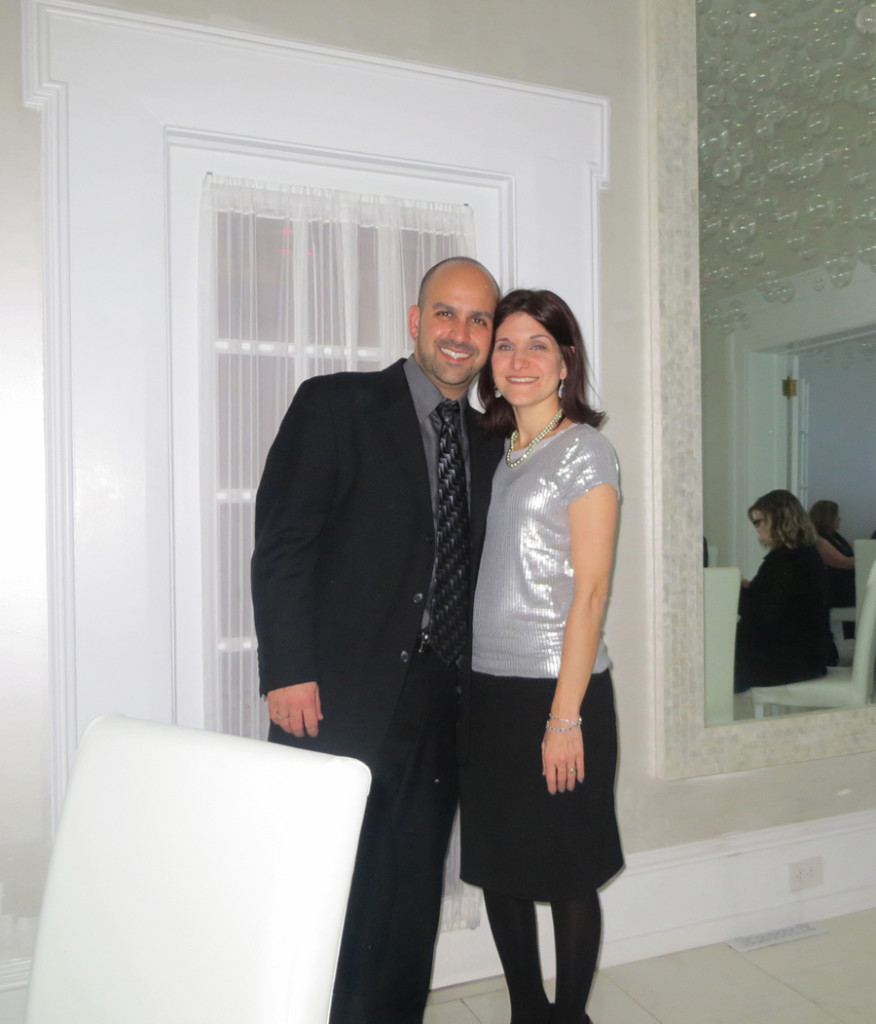 Of course, the best part of all was having an opportunity to spend quality time with some of our closest and best friends. Coming from an Italian-American culture where food, family and friendship all blend into one, this night was definitely one that will be memorable for a long time to come.
If you are looking for a unique and education dining experience, I highly encourage you to enjoy a meal at the Restaurant School. It is an experience that I guarantee you will walk away from with a smile.
The Restaurant School at Walnut Hill College is located at the corners of 42nd and Walnut Streets in University City, Philadelphia. Please call 215-222-4200 for more information or reservations.