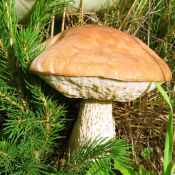 Why did the Mushroom get invited to all the parties? 
'Cuz he's a fungi! 
I've never really been a big fan of mushrooms. I don't dislike them, it's just a food item that I rarely, if ever go for. On my pizza? Nah. In a salad? Maybe. Stuffed with crabmeat? Sign me up! But that's about where it ends. I honestly couldn't even tell you the difference between a portabella and a shitake. All I know is that I shouldn't eat the mushrooms that grow on my lawn. Or should I?
I have, however, learned the magic of the porcini mushroom…or should I say the porcini flavor. A good friend of mine who also loves to cook, and who also knows that some of my favorite dishes involve sauces, recently gave me a box of Star ai Funghi porcini bouillon cubes. Relatives of his who live in Italy use these cubes often, and when he found them at a store in the South Philadelphia Italian Market, he made sure to grab me a box as well. "They're like magic," were his exact words, and he was spot on. I've since used them in a few sauces, soups and risotto. Boom…Magic! The cubes add a beautiful, earthy, aromatic accent, without overpowering the dish itself. I can't tell you how many ideas on how to use these magic cubes I have rolling through my head…but be sure that I will share them with you as soon as I put these new dishes together! In the meantime, if you find these cubes yourself, be sure to pick them up and put them to good use!