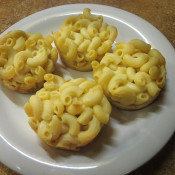 If you are a parent of younger kids, you are well aware of the constant struggle to get your children to eat something new and different. Most days, the only acceptable home cooked meals (i.e. not fast food or bagel bites) are either pasta, chicken, or mac and cheese…which, of course, is just another form of pasta. A key trick which we are often told as parents is to keep the meals fun and interesting, and the kids will then be encouraged to try something new. Unfortunately, being a full-time working parent does not allow one much time during the week to think beyond the routine menu, let alone get creative.
While this dish may not be completely new to your table, this clever variation on the American classic does help bring a little fun and excitement to mealtimes. My sister-in-law made a variation of these for our family Superbowl party just a few weeks ago, and the kids ate them up! Not only are they simple to make, but they also give you a chance to get a bit more creative with a standard mac and cheese dish. Feel like sneaking some veggies into your children's diet? Add some finely chopped broccoli or cauliflower to the mixture. Or top the bites off with a slice of tomato and a bit of extra shredded cheese (they'll look like little pizza cups). Wanna get a bit more fancy for the adult servings? Try using a bit of prosciutto to line the baking tins! You can also switch up the cheeses that are used in the recipe below, or use another recipe to your liking…our family mac and cheese recipe calls for shredded American cheese instead of mozzarella.
You can go with either the large or mini bite-size muffin tins, depending on your preference. Although I'd rather use a nice home made macaroni and cheese recipe for this (the AllRecipes.com version is listed below), you can also use the boxed stuff if that is your preference. For an even cheesier taste, substitute the bread crumb crust with crushed cheese flavored crackers. This is also a good meal to get into the Friday night mix during this Lenten season. Just remember to leave out the prosciutto!
Macaroni and Cheese Muffins
Courtesy of AllRecipes.com
2 cups uncooked elbow macaroni
1 tablespoon butter
1 egg, beaten
1 cup milk
1 1/2 cups shredded sharp Cheddar cheese*
1 1/2 cups shredded mozzarella cheese*
1/2 cup seasoned dry bread crumbs
2 teaspoons olive oil
1/2 teaspoon salt
Preheat the oven to 350 degrees F (175 degrees C). Grease a muffin tin with nonstick cooking spray. In a small bowl, stir together the bread crumbs, olive oil and salt; set aside.
Bring a large pot of lightly salted water to a boil. Add the macaroni and cook for about 8 minutes, it should still be a little bit firm. Remove from the heat, drain and return to the pan; stir in the butter and egg until pasta is evenly coated. Reserve 1/2 cup of sharp Cheddar cheese and stir the remaining Cheddar cheese, milk and mozzarella cheese into the pasta. Spoon into the prepared muffin tin. Sprinkle the reserved cheese and the bread crumb mixture over the tops.
Bake for 30 minutes in the preheated oven, or until the topping is nicely browned. Allow the muffins to cool for a few minutes before removing from the pan. This will allow the cheese to set and they will hold their muffin shape.
*Our family mac and cheese recipe does not use mozzarella, but rather shredded American cheese. You can use your own mac and cheese recipe, or simply alter the above recipe to your liking).