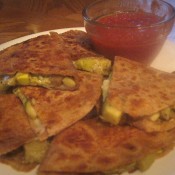 Whether you are enjoying a traditional Mexican meal at home or at a family-friendly restaurant, you are sure to find quesadillas on the table at some point. The popular and tasty dish, made up of a flour or  corn tortilla stuffed with cheeses, vegetables, meats and beans is perfect dish to either share as an appetizer with friends, or (as in my case) enjoyed on its own as a main course. This week, to help celebrate Cinco de Mayo, I am going to put an Italian spin on this Mexican favorite.
First, let's start off with the filling. Instead of the traditional quesadilla filling, I will be using some of my favorite go-to Italian vegetables. You will need:
1 green zucchini, chopped
1 yellow squash, chopped
1 medium eggplant, chopped
1 small jar artichoke hearts
1 red bell pepper, chopped
2 cloves garlic, minced
1 teaspoon Italian seasoning
salt and pepper (to taste)
Mix all of the above in a bowl. Add some olive oil and stir together until well-mixed. Refrigerate for 30-60 minutes to allow all of the flavors to come together. Pour in a baking dish, bake at 350˚ for about 20 minutes. Remove from oven, set aside.
If you want to add some meat to the filling, traditional chicken or shrimp would work well. Or for a little more Italian spice, try adding some cooked ground sausage!
Next, we're going to add some cheese. While quesadillas usually use cheddar, colby or monterey jack cheese, we're going with shredded mozzarella and some parmesan.
Assembling the Italian quesadillas is the same as the traditional version. You start by heating up a pan over medium heat, lightly coated with butter or oil. Place a tortilla shell into the pan, let heat for about 15 seconds. Add some of the filling to one half of the tortilla, topped with the cheeses and some fresh herbs (fresh chopped basil is my choice here!). Fold the shell in half to make a half moon shape. Carefully flip the quesadilla so that it even cooks on both sides. Remove from pan, cut into three equal triangles. You may need to add more butter or oil to the pan before each additional quesadilla. Serve with a side of marinara sauce or bruschetta for dipping (in place of traditional salsa).