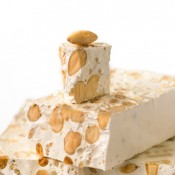 Every once in a while I get the itch to try something new in the kitchen, some kind of dish that I am totally unfamiliar with. Since we are in the Christmas season, I thought I would attempt to make home-made torrone (the Italian nougat candy that is very popular this time of year). Big emphasis on the word ATTEMPT.
I checked out a bunch of nougat and torrone recipes, and they all sounded similar and easy enough to follow. Bring some sugar and honey to a high temperature boil, slowly pour it into whisked egg whites, beat on high, stir in toasted almonds or pistachios, pour into a pan lined with edible wafer paper/rice paper, let sit overnight. I also found a recipe for chocolate torrone, so I decided that I would give not one, but two batches a try: a chocolate mint and a chocolate cherry. If anything, I figured it would be a learning experience…and boy, was I right!
Here's what I have learned while ATTEMPTING to make torrone:
1. Precision is key (aka, this is why I am not a baker or a candy maker)
Although I followed the recipe that I chose to the tee, I also added some melted chocolate, along with peppermint extract and cherries to the mixes – which meant that there was more liquid in the mix than was called for. The taste was exactly what I wanted for both, but the texture was less of a nougat and more of a VERY runny salt water taffy. Seriously, you could have eaten it with a spoon. Some friends have told me that this also could have been due to the warm and muggy weather that we were having. Again, this is why I don't bake. My gravy and eggplant parm were never screwed up because of bad weather.
2. Be careful with substitutes
One of the other key ingredients to a true torrone is edible wafer paper, or edbile rice paper (the thin lining on the top and bottom the torrone that we always compared the taste of a communion wafer when we were kids). While wafer paper is most likely not available at your local grocery store, you can find it at specialty stores and gourmet food shops. I decided to follow the advice of another foodie website, which suggested just using Asian spring roll shells, which are also a form of rice paper. WRONG!!!! While these shells do look similar to the wafer paper found on torrone, the texture is way too thick and crunchy. It was like adding shards of glass to the torrone.
3. Heating up sugar can be disastrous (also part of the Precision problem)
Like I said above, the recipes made it sound so easy. Just heat up the sugar and honey until the candy thermometer reads 310˚. And yes, it would have been just that easy, had I not turned my back for about 10 seconds during my third attempt. Within no time, the hot liquid candy spilled over the pot, all over the range, and actually caught fire on the burner. I was seconds away from having to reach for the extinguisher! I got it all under control…only to have to spend the next hour chiseling away at chunks of burnt sugar on the stovetop.
So, after suffering through and wasting 12 cups of sugar, 9 egg whites a whippin', 6 pieces of dark chocolate, 4 jars of honey, 3 people laughing at me, 2 cut fingers and a stovetop charred and burned, I say BAH, HUMBUG to home made torrone! In fact, I don't even want to see a little blue box of store bought torrone this year. Instead, I'll stick with the delicious Christmas cookies and desserts that are made by my wife, our family and our friends.
If you are looking for a delicious holiday dessert recipe, check out the Holiday Rum Cake recipe that I shared on my blog a few years back by clicking here.
And if you want to try some of the best biscotti and ricotta cookies ever, be sure to visit my good friend Natalie Stone at Bella's Biscotti by clicking here. They are THE BEST!