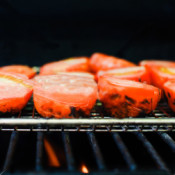 Looking for a quick side dish to prepare for you next cook-out? This recipe takes one of my favorite cold salad combinations – cherry tomatoes, fresh basil, olive oil, salt and pepper – and adds a hot new dimension to it. You will need a grilling basket to cook the tomatoes to prevent them from falling through your grill grates. A round or square metal basket or a disposable aluminum tray with holes will do the trick. You can use cherry or grape tomatoes, depending on what you have on hand. If you are using the larger cherry tomatoes, I suggest slicing them in half. Measurements are based on your preference and serving size, so be sure to adjust accordingly.
Simply mix together in a bowl the tomatoes and some fresh chopped basil (I always go with 1/4 cup basil per container of tomatoes, but you can adjust to your liking). Drizzle the tomatoes and basil with some extra virgin olive oil, then add some salt and fresh ground pepper to taste. Mix it all up well. Place the basket or tray onto your grill, then pour the tomato mixture into the basket and cook directly over medium-high heat, stirring occasionally. Be sure to pour the mixture into the basket while it's sitting on the grill, otherwise the oil will run out through the basket holes. Continue to stir until the tomatoes start to blister and slightly char. Carefully scoop the grilled tomatoes out of the basket and onto a plate, leaving the basket on the grill until cool and the oil evaporates (again, the hot oils may run through the basket holes if you remove it too soon from the grill, which could badly burn you).
Add a little additional chopped basil to the mixture for extra fresh taste. If you really want to impress your guests once you plate it, throw in a few slices of fresh mozzarella too!