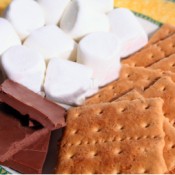 Now that we are officially into the summer season, and the warm temperatures are quickly kicking in, it's hard to not think about food that is prepared outdoors on a grill. For this post, my daughter Julianna and I will show you how to grill up one of our favorite summer desserts….grilled s'mores sandwiches! This is a very quick and easy alternative to the popular autumn fire roasted treat, using the same three classic ingredients (chocolate, marshmallows and graham crackers).
Instead of the traditional cooking method of roasting the marshmallows on a stick over an open fire, we are first going to stack all of the ingredients as a sandwich: one piece of chocolate and one marshmallow, sandwiched between two graham crackers. Next, you'll want to wrap the sandwiches in aluminum foil, so they look like little tin bricks.
All that's left is to carefully place the wrapped sandwiches on a heated grill for about 3 minutes. Carefully remove the wrapped sandwiches, and let them sit for a minute. Then remove the foil, being careful not to burn yourself with the melted marshmallow or chocolate. You'll then have the gooiest, tastiest grilled dessert sandwich imaginable.
This works well on either a gas or charcoal grill. You can also do this in the oven any time of the year!