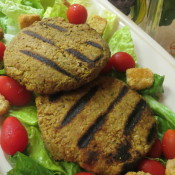 Over the past few years, grilling season has become one of my favorite times to cook. It allows me to be experimental (grilled stromboli, anyone?), it's a good excuse to be outside, and it's an opportunity to enjoy a nice, cold, refreshing beer in between 'flipping' and 'rotating'. If you are a regular follower of my blog, you are probably well aware that one of my all-time favorite ingredients is pumpkin. Which is why, as I was putting together a list of ideas that I would like to prepare on the grill this season, I decided that I somehow needed to get pumpkin involved. Now, I know that we are still a good few months away from pumpkin season, and fresh pumpkins aren't easy to come by just yet anyway. But with a 5 day weekend to help celebrate Independence Day, I figured there was no better time to get a little creative. What I came up with was my own spin on a pumpkin burger.
There are actually a handful of pumpkin burger recipes available on other websites, and they all use white beans as the key ingredient along with pumpkin puree. However, none of the recipes utilized traditional pumpkin spices. Instead, they went with corn, peppers and other usual suspects found in a veggie patty. Because I wanted to stay true to the pumpkin taste, yet have it hold up as burger, I put together my own version, using pumpkin puree, chickpeas (any white bean would work well), traditional pumpkin spices, and some tarragon to add a little savory flavor. To keep with the pumpkin theme, I also cut back heavily on the recommended amount of breadcrumbs and compensated with ground pecans – which, of course, go well with any pumpkin dish! Assuming that some sort of condiment would be needed, and neither ketchup or mustard would really work well here, I found a recipe for a maple balsamic vinaigrette– again, relying on maple as a standard pairing with pumpkin.
I realized while making these that the end result could go either way – very good, or really bad. I am happy to say that they came out VERY GOOD! What I ended up with was a hearty veggie burger with definite, but not overpowering, hints of pumpkin. They grilled up quickly, but I am sure that they would also work well if cooked on a stovetop or in the oven. I'm also thinking that a little chopped jalapeno would give it an extra welcoming kick, but definitely not necessary.
So, whether you are a fan of pumpkin, or just a lover of veggie burgers, I suggest you give this one a try. And if it's too early in the season for you to consider pumpkin-anything, I guarantee these will be a big hit come autumn time!
Grilled Pumpkin Pecan Burgers
Makes 6 burgers
1 15.5 oz can chick peas (or any type of white bean)
1-1/3 cup pumpkin puree
1/2 tspn allspice
1/2 tspn nutmeg
1/2 tspn ginger
1 tspn cinnamon
1 tspn tarragon
1 tbspn chives
1 egg
1-1/2 cups finely grounded pecans
1/2 cup breadcrumbs
salt and pepper to taste
Combine beans, pumpkin, spices, tarragon, chives and egg in a food processor. Mix until well combined. Fold in pecans and breadcrumbs, season with salt and pepper. Gently scoop a generous handful and shape into a patty (makes a total of 6 patties). To help hold the patties together, place in the refrigerator for at least 1 hour, or in the freezer for 15-20 minutes.
Place the patties on a well-oiled grill over medium heat. Once the patties start to brown and show grill marks, flip. Remove patties when both sides are equally browned. Serve on a bun or over a salad, drizzle with Maple Balsamic vinaigrette.
Maple Balsamic Vinaigrette
(Courtesy of allrecipes.com)
1/2 cup balsamic vinegar
1/4 cup maple syrup (adjust measurement to your liking)
2 tspn dijon mustard
salt and pepper to taste
1 cup extra virgin olive oil
Place vinegar, maple syrup, Dijon mustard, salt, and pepper into a blender. Pulse to combine, then add the olive oil in a steady stream with the motor running.