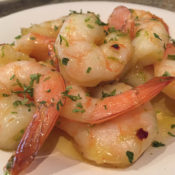 In my previous post, I shared with you ideas on how to grill with foil-wrapped packs. The recipe that I'm sharing with you today could be prepared in a number a ways, a foil-wrapped pack being one. Plus, it's a great recipe for your Fourth of July cook-out!
The measurements that I am using for the marinade are for a half pound of shrimp. I used 21/25 sized shrimp, you can use whatever size you prefer. Simply double up the ingredients for a pound of shrimp, and increase your measurements accordingly per every additional half pound. It's all about ratio! There are a number of methods that you could use to grill the shrimp. Three of my favorite methods are listed below.
Grilled Honey Lime Garlic Shrimp
1/2 pound raw shrimp (your size preference), shelled and deveined
1/4 cup honey
1/4 cup olive oil
1 clove garlic, minced
zest of one lime
pinch of red pepper flakes
Mix the honey, olive oil, garlic, lime zest and pepper flakes. Soak the shrimp (defrosted if previously frozen) in the marinade for at least 30 minutes in the refrigerator. Remove shrimp and discard marinade for the basket and skewer methods, reserve the marinade for the foil pack method.
Grilling Basket Method
The easiest method would be to cook the shrimp in a grilling basket. Place the shrimp in a grilling basket over medium-high heat, stirring occasionally. Grill for 7-10 minutes, until shrimp are pink and fully cooked.
Bamboo Skewer Method
Another method that you could use is skewering the shrimp with bamboo skewers. Be sure to soak the skewers in water ahead of time for at least 30 minutes in order to avoid the skewers from burning. You could also add pineapple, peppers, or any other choice of vegetable to the skewers to make your favorite shrimp kabob. Place the skewers over medium-high heat, leaving the bare portion of the skewer off of the grill for easier handling. Cook the skewers 3-4 minutes on each side, until the shrimp are pink and fully cooked.
Foil-wrapped Pack Method
The method that I preferred to use is the foil-wrapped pack method, because the marinade cooks up with the shrimp, making a glaze. Following the steps that were described in my previous post, you will need to use two pieces of 12″ aluminum foil, stacked. Only use 1/2 pound per pack, making sure that you don't overload the pack. Place the shrimp and the marinade in the middle of the pack. Fold the foil packs crosswise over the shrimp to completely cover. Roll the top and bottom edges to seal closed. Place the pack on a heated grill, let it cook for 10-15 minutes or so (depending on the heat of your grill), until the shrimp are fully cooked. Carefully open the pack and serve immediately.