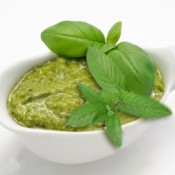 Even though it may be a bit late in the season to talk about using fresh herbs from your garden (my herb plants starting going south a few weeks back), it's never a bad time to keep this quick tip in mind next time you are making fresh pesto. By simply cutting the amount of fresh basil in half, and replacing the other half with fresh mint – in other words, using equal parts basil and pesto – you end up with a tasty and vibrant alternative to an already fresh home made sauce. Whether you are serving it on pasta, chicken, salmon, baked potato, or as a vegetable dip, the fresh mint pesto will be sure to please!
Fresh Basil-Mint Pesto
Adapted from simplyrecipes.com
1 cup fresh basil leaves, packed
1 cup fresh mint leaves, packed
1/2 cup freshly grated Parmesan-Reggiano or Romano cheese
1/2 cup extra virgin olive oil
1/3 cup pine nuts or walnuts
3 medium sized garlic cloves, minced
Salt and freshly ground black pepper to taste
Combine the basil and mint with the pine nuts, pulse a few times in a food processor. (If you are using walnuts instead of pine nuts and they are not already chopped, pulse them a few times first, before adding the basil.) Add the garlic, pulse a few times more.
Slowly add the olive oil in a constant stream while the food processor is on. Stop to scrape down the sides of the food processor with a rubber spatula. Add the grated cheese and pulse again until blended. Add a pinch of salt and freshly ground black pepper to taste.
Use immediately, or refrigerate in a sealed container for up to a week.
Makes 1 cup.